July 2nd, 2010 by katie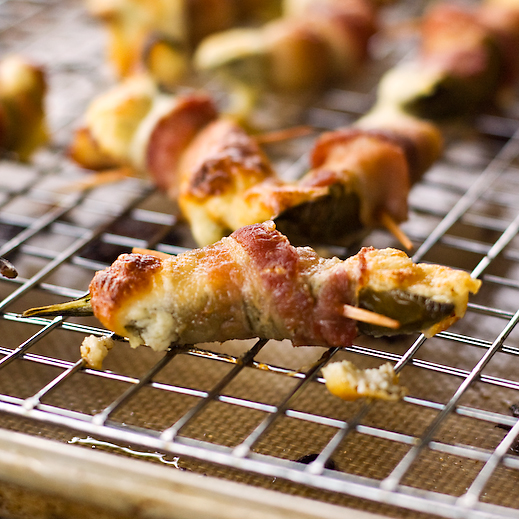 I love these little bites.  These jalapenos were one of the very first recipes that I had the confidence to create on my own waaaaay back when I was still making Hamburger Helper and frozen garlic bread for dinner most nights.  I served them with ranch dressing dip made from a packet and-call it nostalgia-but that's still how I prefer them.  These babies are great for parties but back then I often made them for mrChaos and I for dinner too.  Below, I included the recipe for two dozen poppers but you'll want to make a lot more, especially if you're serving a crowd-these are addictive little guys!
My favorite way to make these are to put them on the grill for a few minutes to get the bottoms crisp and smoky and then to finish them in the oven.  They are just great cooked all the way through in the oven, though, as well.
Bacon Wrapped Jalapeno Poppers
makes 24 poppers, prep 20 min, cook 40 min
8 oz cream cheese, softened
6 oz cheese, shredded (I like a good melting cheese like Asadero or Monterrey Jack)
1 tsp garlic powder
1/2 tsp salt
1/4 tsp black pepper
12 large jalapenos
12 slices of bacon
toothpicks
Preheat oven to 400°F.  Place a cooling rack over a foil-lined baking sheet (for cleaning up melted cheese).
Mix together cheeses, garlic, salt, and pepper.  Unless you have the super strength or some exceptionally soft cream cheese, you will probably need to use a hand mixer for this.
Cut each jalapeno in half from stem to tip forming a long, shallow boat.  Use a small paring knife or a small spoon to scrape out seeds and membranes without breaking through the flesh of the jalapeno.  If you want spicier bites, leave some of the seeds and white membranes intact.
Use a spoon to fill each jalapeno half with cheese mixture, mounding slightly.
Cut bacon slices in half and wrap one half slice around each jalapeno, securing with a tooth pick.
Place jalapenos, cheese side up, on the rack over the baking sheet and bake for about 40 minutes or until the bacon is fully cooked.
Remove the tray from the oven and let the jalapenos cool to room temperature before serving.
Alternately, you can grill the jalapenos about 10 minutes or until the underside bacon is crisp, then finish them in the oven for about 20 minutes or until the tops are crisped and browned.
Depending on the size of your jalapenos you will have some filling leftover, so it is always good to have few extra jalapenos on hand.

Posted in Snacks/Appetizers, Things I Love