April 19th, 2010 by katie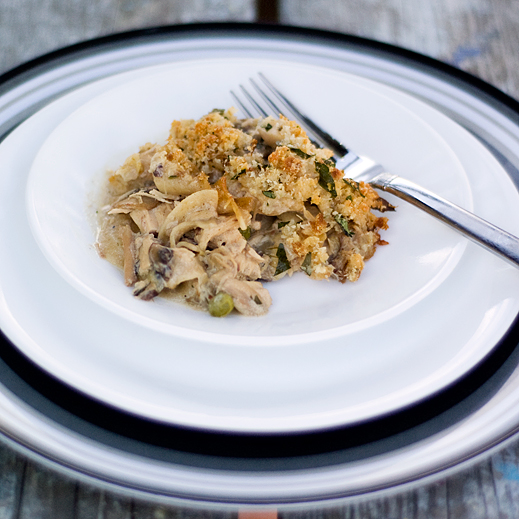 We don't eat a lot of casseroles, yet they always seem like comfort food to me.  And when the budget is tight, comfort food is on the menu.  Not only because it makes us feel better but because homey, comfort food consists of the odds and ends our moms always kept in the pantry.  We could all save big on our grocery bills if we just looked to the existing food in our pantries.  I needed to use up some frozen chicken and noodles and I had bookmarked this recipe one from Lisa's blog.  It was exactly what I wanted, and the only thing I had to buy was the mushrooms!
This dish is a great contrast between creamy chicken and noodles and crunchy, cheesy topping.  It is a great meal to make ahead: you can prepare it through step 10 and then refrigerate until ready to cook.  When you are ready to eat, just sprinkle with the topping and then bake until hot and browned.  It definitely stands up to the true test for casseroles-the leftovers are just as great, and there are plenty of leftovers!
I used my crockpot to cook the chicken and make the stock simultaneously but you can certainly use leftover or rotisserie chicken and canned stock.
Chicken Noodle Casserole
serves 8-12, prep 20 min, cook 30 min, adapted from
The Cutting Edge of Ordinary
8 oz egg noodles
6 tbsp butter
8 oz mushrooms, thinly sliced
1 small onion, diced
2 garlic cloves, minced
1/4 cup flour
3 cups chicken broth
16 oz sour cream
4 cups cooked chicken meat, cubed (approximate yield from a 5lb whole chicken)
1 cup frozen peas
chopped parsley
salt and pepper
4 tbsp butter, melted
2 cups bread crumbs (about 4 slices sandwich bread)
1 cup Parmesan cheese, grated
1 tbsp parsley, minced
Cook egg noodles in boiling water, about 5 minutes or until still very firm. Drain in a colander.
In a deep sauce pan or dutch oven, melt 2 tbsp of butter over medium high.
Add mushrooms and saute until liquid evaporates and mushrooms are lightly browned.
Add onions and cook until soft.
Add garlic and the rest of the butter.  Sprinkle with flour and cook, stirring, until flour is golden brown, about two minutes.
Whisk in chicken broth, bring liquid to a simmer and cook, whisking, until thick.
Stir in sour cream.  Simmer, stirring, until sauce is smooth.
Remove from heat, stir in noodles, chicken, peas, and chopped parsley.
Taste and season with salt and pepper.
Pour chicken and noodles into a large casserole dish, such as a 13×9 inch dish.
Preheat oven to 350°F.
In a small bowl, combine butter, bread crumbs, Parmesan cheese, and parsley.
Sprinkle over the top of the casserole until well covered.
Bake 30-40 minutes or until browned and bubbling.

Posted in Main Dish