March 31st, 2010 by katie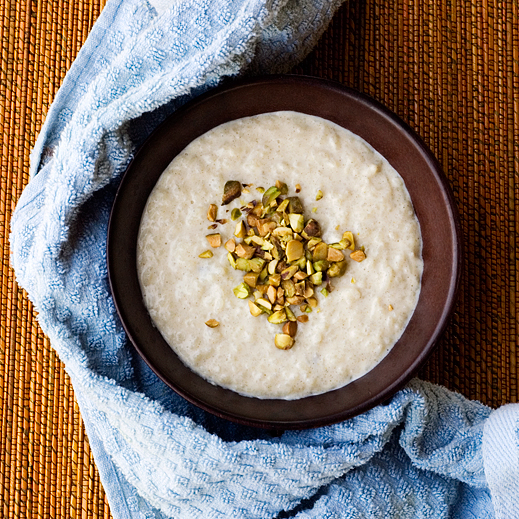 I have always loved food.  All my life I have been especially enamored by the various Asian and Mediterranean cuisines, albeit the Americanized versions I'm sure.  Indian food, though, was one I had to learn to love.  Yet, love it, I do.  Spicy, flavorful Indian food-like this or this-has become one of my very favorite, crave-able meals.  I comb the Internet looking for home cooks who have mastered the Indian recipes I love and through that search I have found so many wonderful food blogs.  Blue Jean Gourmet is one of them-although there are so many delicious recipes there one is hardly confined to the Indian ones.  Not only does Nishta post wonderful recipes, she is also another Houstonian and was even recently named one of Houston's "Blog Stars" by the Houston Press.
I was so excited when she posted this recipe for kheer, I knew I'd be making it soon.  This cooling and subtly sweet rice pudding has long been my favorite way to round out the spicy flavors of Indian food, and now I can make it at home as well!
Kheer
makes 3 cups, prep 5 min, cook 30 min, adapted from
Blue Jean Gourmet
4 cups milk, 2% or whole
1/2 cup basmati rice
1 tbsp ground cardamom (or 2 cardamom pods)
1/4-1/3 cup sweetened condensed milk
chopped roasted, salted pistachios
Rinse rice.  Meanwhile, heat milk over medium low.
Drain rice and add to the milk.  Cook on medium low about 30 minutes, stirring occasionally to keep the milk from browning on the bottom.
After 30 min check the thickness of your kheer.  I cooked it about 20 more minutes from that point for a thicker, more pudding like kheer than you would get at a restaurant.
When your rice is done and it is as thick as you'd like, remove from the heat and stir in cardamom and sweetened condensed milk.
Chill or serve warm topped with chopped pistachios.
Thanks for all of your comments on my last post.  I guess there really are people out there who aren't completely in love with spaghetti.  Crazy.

Posted in Budget, Desserts, Easy, Pantry Challenge