March 2nd, 2010 by katie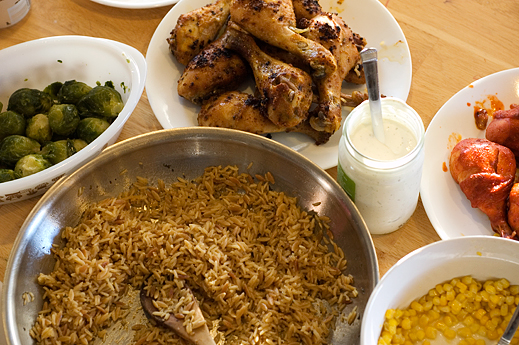 We don't eat as much chicken in the chaos house as we should.  It is an excellent, healthy and less expensive, protein source.  It's just that chicken seems so boring.  I mean its just chicken.  You don't need a recipe to cook chicken, you just cook it.  I forget sometimes that food doesn't need to be complicated or extravagant to be delicious.  Take these chicken legs.  Some friends of ours make these chicken legs all the time and they are always great, but there isn't a thing to it.  In fact, this was one of the best meals we've had in a long time as far as ease, flavor, and child cooperation-and it's barely even a recipe.
Baked Chicken Legs
serves 6, prep 10 min, cook 40 min
4 lbs chicken legs (this was about 20 legs or about 3-4 legs per person)
salt and pepper or seasoned salt
2 tbsp olive oil
hot sauce if desired (like Frank's)
Heat oven to 475°.  Dry chicken legs by pressing them all over with a paper towel (do this even if they seem dry already, it will help the spices stick).
In a large bowl or plastic bag, toss chicken legs with salt and pepper or seasoned salt (I used salt, pepper, garlic powder, onion powder, and paprika).
Add about 2 tbsp of oil to the bowl or bag and toss until legs are coated.
Spread legs onto one or two rimmed baking sheets or roasting pan and place in the oven.
Cook, using tongs to flip legs occasionally, approx 40 minutes or until meat easily separates from the bone.
Broil chicken legs briefly until skin browns and crisps slightly. Flip if desired.
If desired you can brush or toss some of the legs with hot sauce or serve plain or serve sprinkled lightly with Parmesan cheese.
In the picture above is also our homemade rice-a-roni.  Meals like these are nice because the oven does all the work, giving you time to make sides or clean up the kitchen.  Also, it is a great way to prepare a lot of meat at once, to eat for leftovers or in salads, or to take to work for lunch.