March 4th, 2010 by katie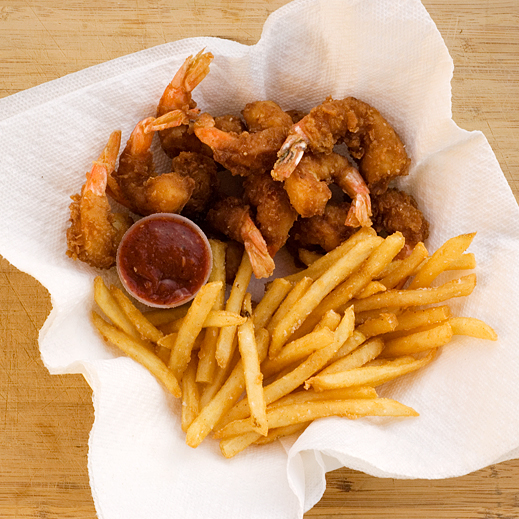 In Texas we have chicken fried steak and chicken fried chicken and now: chicken fried shrimp.  We were trying to come up with a nice crunchy breading for our shrimp and decided to batter it the same way we make fried chicken.  It was a success-thick, crunchy breaded shrimp!
Chicken Fried Shrimp
serves 6, prep 30 min, cook 10 min, adapted from
Buttermilk Fried Chicken
2 lbs shrimp, thawed, peeled, and de-veined
2 cups flour
1 tbsp salt
1 tbsp garlic powder
1 cup buttermilk
1 egg
1 tsp baking powder
1 scant tsp baking soda (about 3/4 tsp)
peanut or other oil for frying
In a medium bowl stir together 2 cups of flour, salt and garlic powder.
In a separate bowl or measuring cup, use a fork to stir together buttermilk, egg, baking powder and baking soda until foamy.
Holding a shrimp by the tail, coat first in flour then dip in buttermilk mixture, then coat again in flour.  Place shrimp on a plate. Repeat until all shrimp are coated.
Heat oil in a pot or deep fryer to about 350°F.
Carefully and quickly add shrimp one at a time to the hot oil.  You will need to do this in several batches to keep from over crowding your oil.
Fry shrimp until breading is golden brown and shrimp are cooked all the way through, about 2 min depending on how hot your oil stays.  You can always scoop out one shrimp and cut it in half to see if they are cooked all the way through yet.
Serve with cocktail sauce and french fries or hush puppies and biscuits.