March 26th, 2010 by katie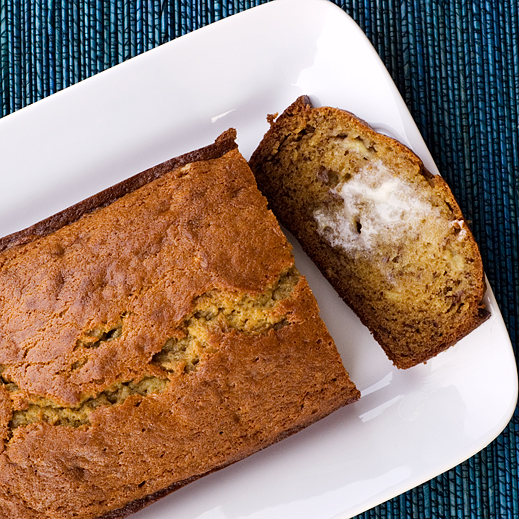 I almost didn't post this.  That is, I don't think there is anyone left in the world who doesn't already have a recipe for banana bread.  So why would anyone care about mine?
Then I realized that the reason I have this website is to archive our favorite recipes for friends who are curious or family who wants to reproduce them.  So this recipe is for them, but if you don't happen to already have a favorite banana bread recipe, then you should try it too.  It is an easy snack-moist and subtly sweet-and a great way to use up your bananas that are getting too soft to eat by hand.
This really isn't my recipe, although I do like to make each recipe mine in little ways.  My mother's recipe and my mother-in-law's recipe are the same, except for the addition of buttermilk (my mom) and spices (his mom).  So I combined them to create the perfect banana bread for my kids: a little bit Granny's banana bread and a little bit Nana's banana bread but with one of Mom's twists.
My touch was to add mace instead of nutmeg.  I discovered mace this past Thanksgiving while making pumpkin pies (which I will share with you in the fall-its wonderful!) and I love it.  Mace is the outer shell of the nutmeg and has a smoother, creamier flavor.  It can be hard to find but you can order it online and those of you in Houston can buy it in bulk at Central Market.  Feel free to use nutmeg in its place.  Also, this recipe makes one loaf but you can double it to make two.
Banana Bread
makes 1 loaf, prep 10 minutes, cook 50 minutes
1 stick (1/2 cup) of butter (I use unsalted)
1 cup sugar
2 eggs
1 1/2 cup flour
1/2 tsp salt (increase this to 1 tsp is using unsalted butter)
pinch cloves
1/2 tsp mace or nutmeg
1/2 tsp cinnamon
1 tsp baking soda
1/2 cup buttermilk
1 cup mashed banana (about 2-3 bananas)
(1/2 cup chopped nuts, pecans or walnuts, optional)
Preheat oven to 350°F and grease a loaf pan.
Cream the butter and sugar.
Add eggs, flour, salt, and spices, stir to combine.
Combine baking soda and buttermilk in a measure cup, stir well then add to batter.
Beat until well combined.
Stir in mashed banana and nuts if using.
Pour batter into prepared loaf pan and bake approximately 50 minutes or until a tester in the center comes out clean.
If you don't have buttermilk on hand, you can quickly make it by combining milk and lemon juice (about 2 tsp) and letting it sit for a few minutes.  You can also omit the buttermilk and use 4 bananas (Nana's recipe), just stir in the baking soda with the flour and salt.  Also, you can increase the spices or omit them, whichever you like.  I would use this amount in the spring but I'd increase them in the fall-but I'm like that.

Posted in Breakfast, Budget, Easy, Pantry Challenge, Snacks/Appetizers