February 5th, 2010 by katie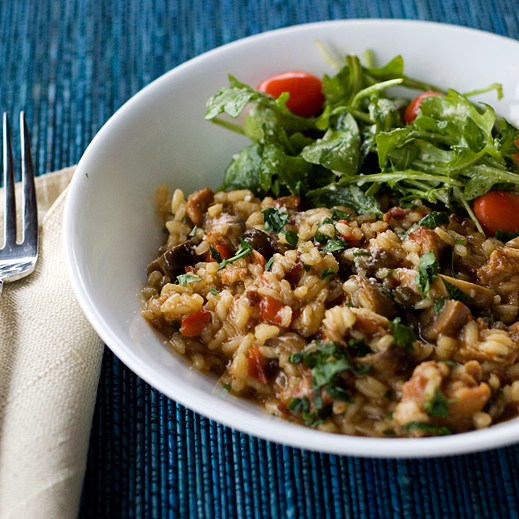 I used to make the BEST dirty rice.  When mrChaos and I were just a couple of kids (are we not still?) I used to make a big batch of dirty rice to last us a couple of days and it was wonderful!  So what if it came out of the box with the trumpet player on it.  Well, it has been a long time since we've had the boxed dirty rice-I have a hard time paying for things I can make myself- and I have never actually attempted dirty rice from scratch, although I've long been curious about whether it would be as wonderful.  So I can't say I am the best judge as to whether or not this risotto tastes like dirty rice.  To me, it kind of tastes like Supreme Pizza Risotto.  And I'll tell you: there is nothing wrong with that at all.
This risotto is hearty and full of sausage and peppers and mushrooms, pair it with a salad and some garlic bread and you have a wonderful, filling meal.  The recipe has been popular.  I first saw it when Passion Foodie posted about it, and she saw it on Brown Eyed Baker, but I changed a few things to try to make it a bit "dirtier."
Dirty Risotto
serves 6, prep 20 min, cook 40 min, adapted from
Giada De Laurentiis
5-6 cups chicken stock
2 tbsp butter
6 oz. hot Italian sausage, removed from casing (about 3 small links)
4 oz. pancetta or bacon, roughly chopped
1 small onion, minced
2 cloves garlic, minced
1 red bell pepper, diced
2 jalapenos, de-seeded, minced
6 oz. mushrooms, roughly chopped
salt and pepper, to taste
1 1/2 cups rice, Arborio or Long-grain
3/4 cup dry white wine
1/2 cup Parmesan cheese
2 tbsp minced fresh parsley
In a small pot, heat chicken stock to a simmer and turn down to keep warm.
Melt butter in a large, deep skillet or stock pot.
Brown sausage and pancetta in butter over medium-high heat, breaking sausage up into chunks.
Add vegetables, onion through mushrooms, to browned meat and cook until softened.
Taste vegetables and season with salt and pepper.
Stir in rice and allow to brown lightly.
Pour in wine and stir until almost absorbed.  Turn heat down to medium.
Using a measuring cup add hot chicken stock to rice mixture a little at a time, stirring, until almost absorbed.
Once rice is tender, turn off heat and stir in cheese and parsley.
Taste again and season with salt as needed.  Serve.
This one was a real knock-out.  I will definitely be making it again and I hope you give it a try!  If you are intimidated by risotto, don't be.  It is much more forgiving than you think.  You really don't have to stir forever and you can even use your usual long-grain rice if you can't find the Arborio rice.

Posted in Main Dish