February 13th, 2010 by katie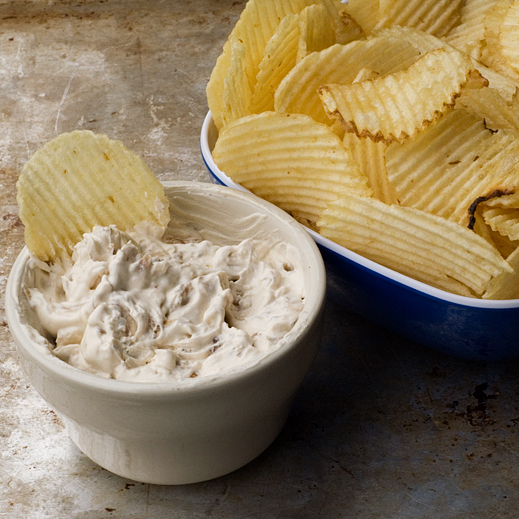 My mother-in-law makes a quick, easy onion dip using Lipton onion soup mix, sour cream and cream cheese that has been a party staple in our house.  It's a good dip to make when you are out of time and need to bring something to the party.  If you have a little more time (and this dip gets better and better the longer it sits) this from scratch version is really flavorful and impressive.
French Onion Dip
makes about 3 cups, prep 20 min, adapted from
Rachel Ray
1 tbsp oil
1 tbsp butter
2 onions, chopped
2 cloves garlic, minced
1 tsp beef base or 1 cube beef bouillon
1/2 cup water
2 tsp Worcestershire Sauce
16 oz sour cream
3 oz cream cheese
Heat butter and oil in a medium saucepan over medium-high heat.
Cook onions and garlic until soft and browned.
Add beef base or bouillon and water and continue to cook until mixture is combined.
Season with Worcestershire sauce and salt and pepper to taste.  Can be made in advance, cool and refrigerate onion mixture until ready to use.
Using a hand held mixer (if necessary), combine sour cream, cream cheese, and onion mixture.
Chill dip at least 30 minutes or up to several days.  Taste and adjust seasonings as desired before serving.
You really have to let the flavors develop in this dip.  If you try to serve it right away it will be bland and possibly even a little overly sweet from the caramelized onions.  I suggest making the dip at least a day ahead and letting it chill until serving time (if you can stay out of it that long!).

Posted in Easy, Snacks/Appetizers