October 4th, 2008 by katie
Have you had a game night lately?  You really should.  We try to have Game Night maybe once a month or so.  We make drinks and snacks and play board games until the wee hours.  It's a ton of fun and fodder for weeks of inside jokes.  Last week's game night was mojitos and Cranium
.  I swear the people who make the Cranium games are geniuses.  They have some really fun, easy kids games and their adult games are hilarious.
Here's the hostess with the mostess mastering charades.  Notice the empty mojito glass.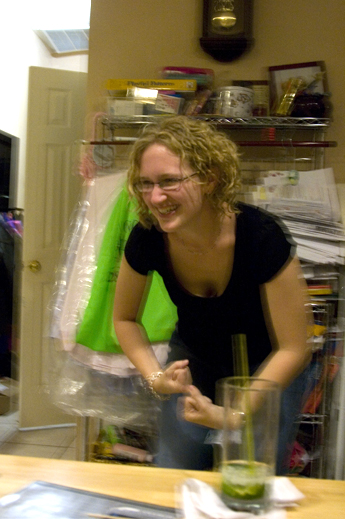 Don't pay attention to the mess behind me.  This is what constitutes cleaning up for company at my house apparently.  Since you can't play games and have drinks without snacks we usually divvy it up potluck style.  My contribution was a super quick, onion dip that I got from Mr. Chaos' mother.  Next time, I'd like to plan ahead (hahahaha) and try this dip or this one to see if I can replicate the flavor without the onion soup mix.  Since that won't happen anytime soon, here's the recipe.  It is tasty and fast if you ever need to entertain on the fly.
Easiest Onion Dip
serves a crowd, prep 1 min, make 30 min ahead
16 oz sour cream
3 oz cream cheese, room temp
1 packet onion soup mix
Combine!  Chill 30 min before serving.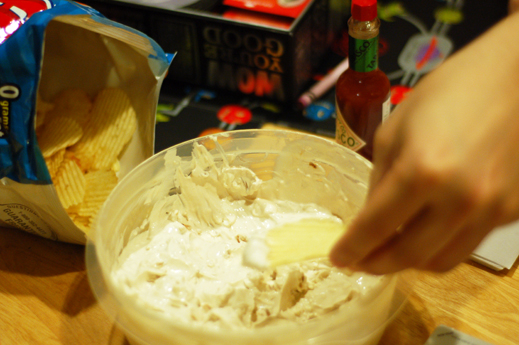 So what movie title was I acting out?

Posted in Easy, Fast, Me, Snacks/Appetizers