January 2nd, 2010 by katie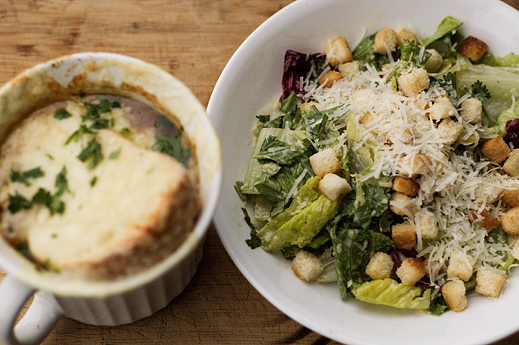 Phew! Welcome to the New Year.  I am so ready for life to slow down.  How about you?  My resolutions for this year are to get organized in my housekeeping, cook more, spend less, eat healthier-all typical perhaps, but sincere.  Did you make any resolutions this year?
If you are looking for a nice, light meal this is a great, impressive dinner salad that you can make completely from scratch or use a few cheats to make it faster and easier.  The dressing is tangy and creamy and just a bit spicy and the cilantro makes it all so fresh and green.  Feel free to use purchased croutons or follow the easy steps below to make your own.  I went half way by using toasted unflavored croutons from the bakery to skip step 6. You could make the home-made croutons even easier buy buying pre-made garlic infused oil in the salad dressing aisle (the kind often labeled "dipping oil").
If you make this much salad you will have extra dressing to use another night, or double or triple the croutons and salad ingredients to serve a large dinner party.
Mexican "Caesar" Salad
makes 2 large dinner salads and about 1 1/2 cups of dressing, prep 20 min, adapted from Rick Bayless's Mexican Kitchen
Dressing
1 cup olive oil
1 1/2 tbsp sherry vinegar
4 tsp Worcestershire sauce
1 Serrano pepper, stemmed and deseeded as desired
zest from 1 1/2 limes
1 egg
1/2 tsp salt, or more as desired
Croutons
1/4 cup olive oil*
4 garlic cloves*, smashed
* you can substitute 1/4 cup purchased garlic infused oil from the store
2 cups 1/2 inch cubes of firm bread, like sourdough
For the Salad
about 8 cups salad greens, 8 oz or 2 medium-small heads of romaine
1/2 cup cilantro, chopped
1/4 cup dry aged cheese, like manchego, queso añejo, dry Jack or Parmesan, grated
To make the dressing, combine a 1/2 cup of the olive oil, vinegar, Worcestershire, serrano, lime zest, egg and salt in a blender or food processor.  Process one minute.
Scrape dressing into a small bowl and whisk in the remaining 1/2 cup oil.  Taste for salt. Transfer dressing to a seal-able jar and chill until serving time. You can make the dressing several days ahead if desired.
To make the croutons, first make the garlic infused oil buy adding the smashed garlic cloves to the olive oil.
Keep oil warm on the stove for 20 min until garlic is very soft and beginning to brown.  You can skip this process by buying garlic infused oil at the store.
Preheat the oven to 350°F. Chop firm bread into small cubes (or buy pre-cubed bread at the bakery).
Toast bread cubes on a baking sheet while oil infuses, 20 minutes.
Strain garlic from the oil and toss the toasted bread cubes and oil together until evenly coated.  Return croutons to the oven and bake 5 more minutes or until golden brown.
To make the salads, combine lettuce, 1/3 cup of the dressing, 2 tbsp (half) the cheese, and the cilantro in a large bowl.  Toss to evenly coat.
Serve salad on individual plates topped with remaining cheese and croutons as desired.
I served it alongside my French Onion Soup for a satisfying meatless dinner, but it would also be great topped with a few garlic and lime grilled shrimp or strips of chicken breast.