December 11th, 2009 by katie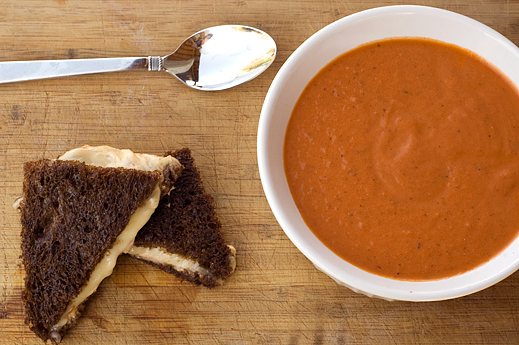 I have a dirty little secret.  It's really not that bad-I think-although the foodies amongst my readers may cringe.  My all-time favorite grilled cheese sandwich is a hot, melty combination of pumpernickel, baby Swiss and thousand island.  I generally get my fix on Reuben night, but occasionally I find another opportunity to sneak it in.  Is there any meal more perfect than a bowl of tomato soup and a grilled cheese sandwich?
This soup has the major asset of being one my very picky kids all happily slurped down.
Roasted Tomato and Garlic Soup
serves 6, prep 15 min, cook 1 hour 30 minutes, adapted from Gourmet, September 2003
3 (28 oz.) cans whole, peeled tomatoes
6 garlic cloves, left unpeeled
3 tablespoons olive oil
1 tbsp dried basil
1/2 teaspoon salt
1/4 teaspoon black pepper
1 medium onion, finely chopped
1/2 teaspoon dried oregano, crumbled
2 teaspoons sugar
2 tablespoons unsalted butter
3 cups chicken stock or low-sodium broth
1/2 cup heavy cream
Put oven rack in middle position and preheat to 350°F. Drain the tomatoes. Cut tomatoes in half, lengthwise.
Arrange the tomatoes, cut sides up, in a single layer on a large shallow baking pan.  Add garlic to pan. Drizzle with oil and sprinkle with basil, salt, and pepper. Slow roast tomatoes and garlic 1 hour, then cool in the pan on a rack until cool enough to handle. Peel garlic.
Heat butter in a 6- to 8-quart heavy pot over medium-low heat.  Cook onion, oregano, and sugar, stirring frequently, until onion is softened.  Add tomatoes, garlic, and stock and simmer, covered, 20 minutes.
Purée soup in batches in a blender or use a stick blender to puree in the pot. Stir in cream and salt and pepper to taste and simmer 2 more minutes.

Posted in Main Dish, Snacks/Appetizers