December 5th, 2009 by katie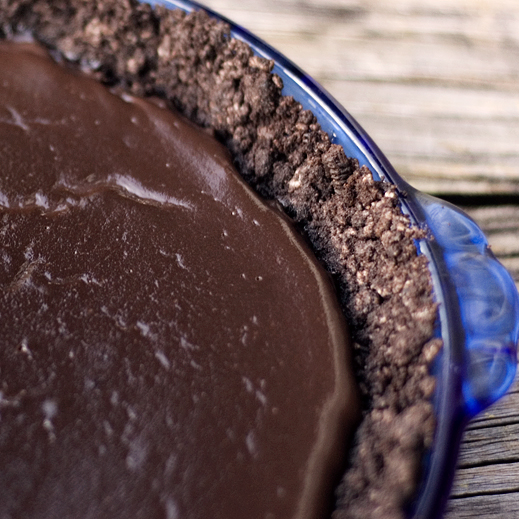 Last year, I made the best chocolate pie for Thanksgiving.  This year, we made it even better by serving it in an Oreo cookie crust.  Once upon a time you could buy Oreo cookie crumbs in a box just like you can buy graham cracker crumbs, but alas, no longer.  You can still buy the pre-made chocolate shells but for a really delicious, Oreo flavored addition, crush the actual Oreo cookies.  No need to add sugar, just a little butter to help the crust hold its shape when sliced.
Oreo Cookie Pie Crust
makes one 9 inch pie, prep 10 min, cook 10 min
24 Oreo cookies
1/4 cup butter, melted
Preheat oven to 350°F.
Place Oreos in a large plastic zip top bag and smash the heck out of them.  A flat mallet or rolling pin works great.  You could probably also use a food processor.  Try to get Oreos to a consistent crumby mush.  The filling should resemble moist crumbs (if you do this by hand there will be a few larger pieces in the mix, this is fine).
Empty crumbs into a mixing bowl and stir in melted butter until well combined.
Pat wet crumbs all over and up sides of pie dish, making an even surface.
Bake crust for 8-10 minutes or until hardened.  Cool before filling.
This is a great replacement for graham cracker crust and add a nice touch to the chocolate pie.  A peanut butter pie would also be great!