September 19th, 2009 by katie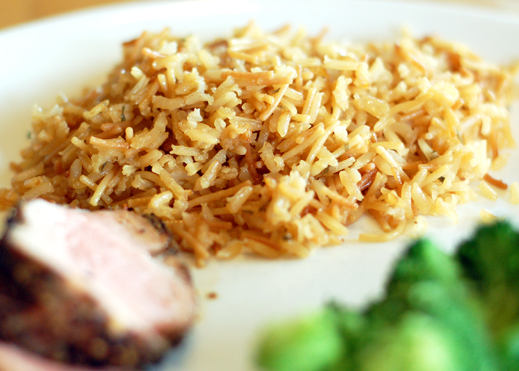 This post is for my mom, but it showcases one of my absolute favorite, everyday recipes.  One I make often and everybody loves.  See, my mom and I were at the grocery store together and she was pretty disappointed that the store was out of the low-sodium version of Rice-a-Roni.  I suggested she make it herself so she could control the sodium completely.  I love Rice-A-Roni but it is much tastier, healthier, and cheaper when you make it yourself.  So I thought I would bring this post to the front, and explain how easy it is.
For the recipe, visit the original post here. 
It is just as easy as making the stuff in the box except you do have to measure two things: 3/4 cup long grain rice and 1/2 cup of pasta.  You can use fideo or spaghetti, just break it up into little pieces and measure out a 1/2 cup.  Then you simply proceed the same way as the box stuff.  Melt a little butter and saute the rice and pasta til golden.  Add water or chicken stock, spices (garlic, salt, pepper, and a little dried parsley if desired), and a teaspoon of chicken base.  Bring to a boil, cover and turn the heat down to low, then simmer for about 15 minutes.  Done.  Perfectly fluffy, flavorful rice pilaf that really does taste just like Rice-A-Roni but not as salty.  There you go Mom.  Love you.
Oh and Mom, while you're here, you should click this link and nominate my blog for an award before September 30th.  Cause I'm your favorite daughter.

Posted in Budget, Easy, Fast, Health/Nutrition, Pantry Challenge, Sides, Things I Love, Tips and Tricks