June 17th, 2009 by katie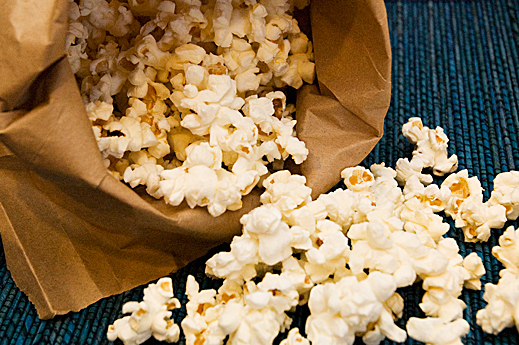 Don't you just love popcorn?  I think popcorn is one of those few perfect snacks.  It is high in fiber and protein, it counts as a whole grain serving, it is fun to eat and quick to make, and you get a lot of it for not too many calories.  Between myself and the kids we could easily go through a couple boxes of microwaveable popcorn a week.  That is not cheap and those bags sometimes contain some questionable ingredients.  I recently experimented with buying actual popcorn kernels and making kettle corn on the stove-top.  I was surprised and pleased by how easy and delicious it was-and the fact that you didn't need to buy a popcorn popper!
The kettle corn is a wonderful treat but with 1/4 cup of oil and 1/4 cup of sugar it isn't the healthiest of snacks.  Also, getting out a heavy pot and shaking it over the heat for ten minutes or so to make the popcorn is pretty time consuming when the kids are whining and you just want a quick snack.  This method is great.  You get the ease and convenience of microwavable popcorn with the nutritional benefits or air-popped popcorn and all this for the low price of a bag of popcorn kernels ($2 for 20 oz. organic) and a pack of paper bags (which you can re-use by the way).  Update:  This method also work just fine with just a glass bowl.  Place the bowl in the microwave with the kernals inside then cover it with a glass lid or a microwaveable plate.  One bag of pop corn kernels will make you between 11-14 bags of microwaveable popcorn depending on how much you want per bag.  My generic pack of paper bags cost $1.50 for 50.  So each bag of popcorn costs about 20¢.  If you consider that the process doesn't damage the bag and you could re-use it multiple times that price gets even lower.
Microwaveable Air-Popped Popcorn
makes about 5 cups per bag, prep <1 min, cook time 2 min
3 tbsp popcorn kernels
paper bag
stapler or scotch tape if desired
Add popcorn kernels to a paper bag or a glass bowl.
Close bag. You can fold it over once or twice, you can tape it closed, or you can even staple it.  We have tried all of these methods and they all work the same. If using a bowl, cover.
Microwave the popcorn as usual for approximately two minutes.  I found that ours was usually done after about 1 minute and 45 seconds.  By two full minutes the popcorn was starting to burn.
Open the bag, carefully if you plan to re-use it, and season to taste or eat plain. If using a bowl, handle it carefully as it will be hot.
We tried adding salt and pepper to one bag but the seasonings just don't stick, even if we spray the kernals lightly with spray oil.  So season the popcorn once it is finished popping (or eat it plain like we do).  What I like is this method is just as portable and convenient as the store-bought bags.  Just portion out the popcorn kernels, staple the bags closed and store them in the pantry or in your desk drawer.  Each bag has about 100 calories and no creepy ingredients!
You can also use a glass bowl with a lid instead of the paper bag.  Just place the popcorn in the bowl and then then place it in the microwave.  Cover the bowl either with a glass lid or with a microwaveable plate (this just keeps popcorn from flying all over the microwave) and pop until there are two seconds between pops.  The bowl will be hot so use a towel or mits to handle it and transfer the popped popcorn to another bowl for serving.

Posted in Budget, Cooking with Kids, Easy, Fast, Snacks/Appetizers, Tips and Tricks