May 4th, 2009 by katie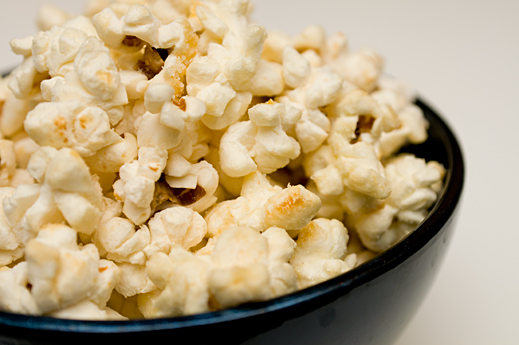 Wow! Have you had kettle corn?  I am not talking about the sucralose sweetened microwaveable stuff either.  I mean real, freshly made kettle corn.  This stuff is fantastic.  Crunchy, salty, slightly sweet: what's not to love?
You know, I never bought a bag of popcorn kernels before this recipe.  I figured that stuff was for people who owned popcorn poppers.  Just a little FYI: there is a recipe on each bag that tells you just how to make the popcorn in a pot on the stove-top, no machinery required.  Here's how you make kettle corn:
Kettle Corn
makes 10 cups, cook time 5-10 min
1/4 cup oil
1/2 cup popcorn kernels
1/4 cup sugar
salt to taste (1-2 tsp)
In a large pot with a lid, add oil and three kernels of popcorn. Get your pot holders ready.
Turn on the heat to medium and cover the pot.  Listen carefully, when the third kernel pops, your oil is ready.
Add the rest of the popcorn and the sugar.  Give it a quick stir to combine and fully coat.
Cover the pot again and heat for three seconds, then lift off the heat with your pot holders on and shake vigorously up and down for three seconds.
Repeat heating the pot for three seconds and shaking for three seconds and continue repeating for about 5 minutes (hey, you didn't think this deliciousness would be effortless, right?).
Check the kettle corn for color and continue heating and shaking until popping stops or kettle corn is sufficiently golden brown.
Pour popcorn into a large bowl and toss with salt while still hot.
Taste and salt as desired once cool.
Cool or what? And so easy!  Thanks to chad for making me realize there was an actual recipe for this stuff.
Oh yeah, and no Cost Analysis for this one because it basically pays you to make it.

Posted in Budget, Easy, Fast, Snacks/Appetizers