January 29th, 2009 by katie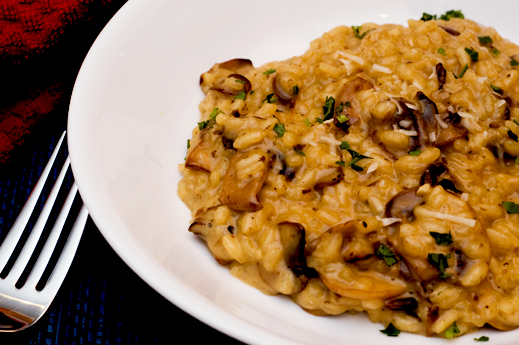 Most comfort foods are ones that we had as children, that make us feel happy and warm inside due to some nostalgic connection.  Then there are the foods that are comforting because they are rich and creamy and warm and delicious-without any ties to the past.  Risotto is one of those foods for me, as I've mentioned before.  It is so naturally comforting that, even though I never had it until well into adulthood, I crave it when I am sick.  The sicker I feel, the richer I want my risotto.  This recipe from Elise at Simply Recipes was the perfect medicine for me this past weekend.  I make risotto occasionally and my last risotto post was full of wise, well worn foodie advice: risotto must be made with Arborio rice.  I even made fun of some poor soul who had once given me the advice that I could use long grain rice because I had once failed at making risotto that way.
Well, let me tell you, when you are halfway through making a pot of risotto and realize you used the wrong rice, you are willing to experiment.  AND GUESS WHAT?!  It does work.  I was a rude jerk and now I am apologizing and saying I was wrong.  I think the crucial step is have the broth you are cooking with hot.  I think that's where I went wrong before and the reason it worked just fine this time.  So, by the way, if you are interested in making risotto but alas, have only long grain rice on hand-never fear, just forage onward and it will turn out fine.

Posted in Sides, Tips and Tricks