May 1st, 2009 by katie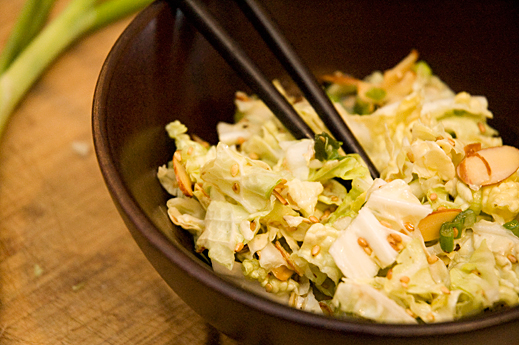 I know you never expected to read a post on my blog with the words "Ramen Noodle" and "Salad" in the title-I, at least, am shocked.  Truth is, this salad contains no Ramen noodles because I just couldn't bring myself to add them.  I have had it both ways, and I really don't think the Ramen noodles are necessary, but in case they are a favorite ingredient of yours I will include them in the directions.
It is a cabbage (I had to make something with all that Napa Cabbage left over from the dumplings) base with green onions, oil and vinegar, all tossed with toasted sesame seeds and almonds.  It think it is delicious and crunchy and nutty all on it's own.  I have always been a fan of non-mayo based cabbage slaws and I am in love with sesame seeds, so I really enjoyed it.
My friend Kelly who doesn't like nuts said it didn't gross her out. So there.
Any suggestions for a name? I can't call it Ramen Noodle Salad, and for some reason calling it Nutty Slaw makes me think of bad words.
Ramen Noodle Salad (aka ______ ? )
serves 4, prep 10 min, cook time 2 min
2 tbsp oil (a nut oil like peanut or sesame would be nice)
1/2 cup sliced almonds
3 tbsp sesame seeds
2 packages Ramen Noodles, crushed (optional)
1 head of cabbage, chopped
3 green onions, chopped
1/2 cup salad oil
4 tbsp seasoned rice wine vinegar
4 tbsp sugar (I used 1 tbsp)
salt and pepper
Saute almonds, sesames seeds, and crushed Ramen noodles in 2 tbsp oil until toasted.
Combine 1/2 cup salad oil, vinegar, sugar, salt and pepper.
Combine cabbage, green onions, and nut mixture in a large bowl, toss with desired amount of dressing.
This is best the first day it is made, it breaks down a lot by the next day (although I thought it was still delicious).
Cost Analysis:
1/2 cup sliced almonds: $0.75
1 head of cabbage (I used Napa): $1.68
3 green onions: $0.35
Total cost for 4 servings: $2.78 or 70¢ per serving