May 29th, 2009 by katie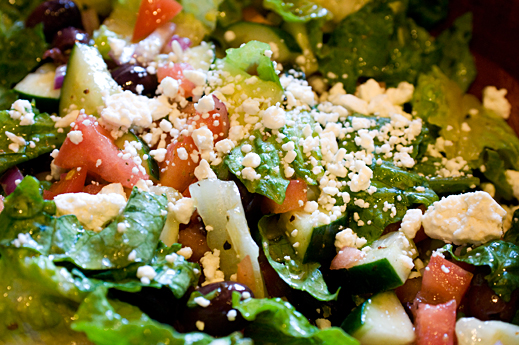 Wow!  If you thought Greek Salad was so-so, you haven't tasted this salad.  I wanted a light side dish to go alongside our shrimp risotto and I knew the lemon and feta would pair well with a Greek salad.  I found this amazing salad at Janet is Hungry.  Greek salads can be really good-spicy and flavorful-or really boring.  This one is fantastic.
Greek Salad
serves 6, prep 10 min, adapted from
Janet Is Hungry
1/2 cup olive oil
3 tbsp red wine vinegar
1 tbsp lemon juice
1 tsp dried oregano
1/2 salt
ground pepper
1 large tomato, chopped
1/2 red onion, sliced
1/2 cup kalamata olives
1 medium cucumber, diced
2 cup romaine lettuce, chopped
1 cup crumbled feta
Combine olive oil, vinegar, lemon juice, oregano, salt and pepper in a small bowl.
Combine tomatoes, onions, olives, cucumber and romaine.
Toss salad with dressing to taste and sprinkle with feta.