April 17th, 2009 by katie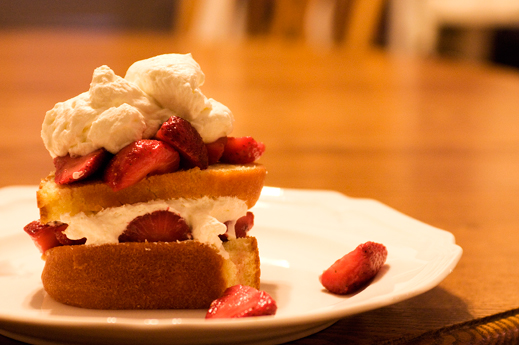 I love strawberry short cake.  It is one of my favorite easy desserts during the spring and early summer when strawberries are sweet and juicy and cheap!  We always served strawberry shortcake on top of sliced pound cake when I was growing up and it is still my favorite way to enjoy this simple dessert.  I saw this pound cake at  Obsessed with Baking and I wanted to try it for a party.  It made a huge amount, rising up and over the sides of my bundt pan, which is actually great because next time I will make several loaves instead and keep some in my freezer-just like the Sara Lee frozen pound cakes we ate as kids!
This cake was amazing: light and tender and sweet and buttery.  It was everything pound cake should be and I will definitely be making this again before the summer is over.
Elvis Presley's Favorite Pound Cake (and mine too!)
serves 12 (we got 20 big servings!), prep 20 min, cook 60 min, adapted from
Gourmet, September 2005
2 sticks (1 cup) unsalted butter, room temperature
3 cups cake flour
3/4 teaspoon salt
3 cups sugar
7 large eggs, at room temperature 30 minutes
2 teaspoons vanilla
1 cup heavy cream
Do not preheat oven. Grease pan and dust with flour.  You need a large enough pan (or pans) to hold 3 quarts.  My regular bundt pan was too small and the cake rose up over the edges and cracked.  So next time I would make several loaves or a bundt and a small loaf.
Combine flour and salt in a bowl.
Beat together butter and sugar in a large bowl with an electric mixer at medium-high speed until pale and fluffy, about 5 minutes in a stand mixer fitted with paddle attachment or 6 to 8 minutes with a handheld mixer.
Add eggs 1 at a time, beating well after each addition, then beat in vanilla.
Reduce speed to low and add half of flour, then all of cream, then remaining flour, mixing well after each addition.
Scrape down side of bowl, then beat at medium-high speed 5 minutes.
Fill pan or pans and tap on the counter to release any air bubbles.
Place in the cold oven at turn on the heat to 350°F.
Test cake after 1 hour for doneness.
Cool cake in pan for 30 min, then turn over and cool on rack.

Posted in Desserts