February 6th, 2009 by katie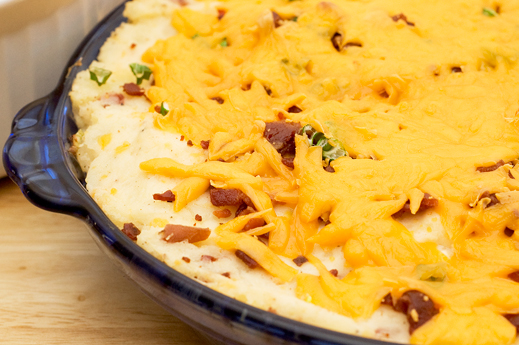 I have always loved the combination of flavors in the classic baked potato.  I don't get to experiment with potatoes often because mrChaos ate them too often as a kid and so thinks he doesn't like them a whole lot as an adult.  Twice baked potatoes, if you don't know, are baked potatoes that are scooped out and mixed in a bowl with all the delicious topping you would add to your baked potato: cheese, butter, sour cream, bacon, green onion.  Then the mixture is piled back into the potato skin and baked again covered in cheese.  A very cool, fun side dish that has always sounded great to me because you can do all this and then freeze them before the second baking.  Then when you want to add them into a meal you just bake them up like they were fresh.
So I started my twice baked potato experiment and I got all the way to the part when I pile the potato mixture back into the shells and I thought, why?  Yeah it gives a nice presentation and portion control for adults but in my house the kids usually out number the adults.  Somehow, I knew they were not going to appreciate being handed a giant potato to eat, despite its being covered in cheese-and besides I was already expecting them to eat their meatloaf without making gagging sounds so why fight two battles?  So I just piled it all into a casserole dish, covered it with bacon, cheese, a smattering of green onion and cheese.  Done.  Everybody loved it: mrChaos was pleased, the kids were pleased, I was especially pleased.  By the way, this dish would freeze, thaw, and reheat just as well as the original potatoes.  It would also be a great potluck or barbecue addition.
Below are just what I happened to use, feel free to adjust to your favorite baked potato toppings.
Twice Baked Potato Casserole (or individual potatoes if you feel so inclined)
serves 6, prep 10 min, cook time 2 hours, divided
3 large russet potatoes
6 tbsp butter, cubed
6 oz sour cream or yogurt (shh! don't tell mrChaos but I used nonfat Greek yogurt cause the sour cream was funky)
1 lb center cut bacon, chopped and cooked into crumbles
8 oz sharp cheddar, shredded
4 oz cream cheese
1 green onion, sliced thinly
salt and black pepper
First step is to bake your potatoes and let them cool down.  Bake the potatoes on a tray at 400°F for 1 hour and 15 minutes.  Let cool enough to handle.
Prep other ingredients while potatoes are baking, set aside.
In a large bowl, add butter, sour cream, 2/3 of the cheddar, the cream cheese, and salt and pepper to taste.
Cut your somewhat cooled potatoes in half and scoop out the flesh in the large bowl.  If you plan on using the skins as boats be sure to keep them intact.
Use a potato masher or fork to combine the ingredients in the bowl, taste and season as you go.
Pile the mixture into a shallow casserole of pie dish, smooth the top and cover with bacon, onion as desired, and cheese. (or do this individually to your potato boats)
Bake casserole or individual potatoes at 350°F for about 20 minutes or until crusty and warm.
This is not really diet food although you cut dramatically cut the fat by eliminating the butter, using the nonfat yogurt or sour cream and using half the amount bacon and of 2% cheese.  No it won't be as good. But it might be close.