June 11th, 2008 by katie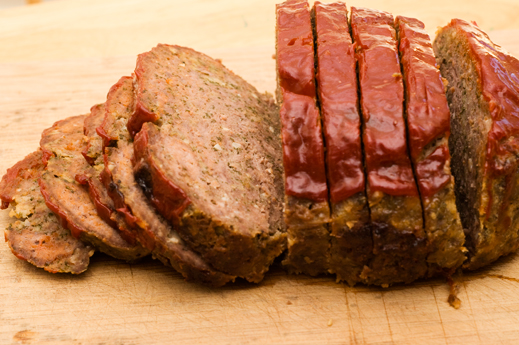 I would almost make this meatloaf simply for the way it makes the house smell.  It is quick to put together, I usually have the ingredients all on hand, and it really has the most wonderful aroma that permeates the whole house.  For those you-I know you're out there-who don't cook for 4-6, this is a great recipe to make ahead and eat leftover or to slice and freeze for another meal another day.  I also use this recipe to make my meatballs.
I would use 85/15 ground beef for this.  Any leaner and there won't be enough fat to soften the bread crumbs, so if you choose sirloin you might want to reduce the bread crumbs to 1/4 cup or simply add them at the end as needed.
Meatloaf
serves 4-6, prep: 10 min, cook: 90 min (allow to rest before slicing)
1/2 – 1 cup bread crumbs
5 tbsp grated Parmesan or Romano cheese
5 tbsp minced parsley, dried is fine
2 tbsp minced garlic, this is about 6-8 minced cloves
1/2 tsp salt
1/2 tsp fresh ground pepper
2lbs ground beef
2 eggs
ketchup!
Preheat oven to 350ºF and grease a shallow casserole dish.
Mix a 1/2 cup bread crumbs, cheese, parsley, garlic, salt, and pepper until well combined.
Mix in ground beef until you have a uniform mixture.
Add eggs and knead in until mixture resembles a sticky dough ball.  It should hold it's shape and not be too dry or crumbly-add some water-or to sticky and sloppy-add some more bread crumbs.
Mold the meat mixture into a loaf and place in a casserole and top with a layer of ketchup.  I thought that sounded totally gross when I made this for the first time (never really ate a lot of meatloaf, so I didn't know) but it is actually a nice topping, the sugar in the ketchup caramelizes slightly in the oven and it adds a nice tomatoey contrast.
Bake for 90 minutes. Center should be 160ºF. Slice once slightly cooled and serve or make ahead and serve reheated.  Like any really good meatloaf recipe, the leftovers get better and better.
While meatloaf is baking, clean up kitchen (do it!) and prepare appropriate sides, like veggies.
This is a great meal to double and stash away in the freezer because the leftovers are just as great.  To reheat a meatloaf, thaw if necessary, place the loaf or however many slices you'd like in a casserole and bake at 350°F for about 20 minutes or until warmed through.  Alternately you can just microwave slices or pan fry them as well.

Posted in Main Dish