February 27th, 2009 by katie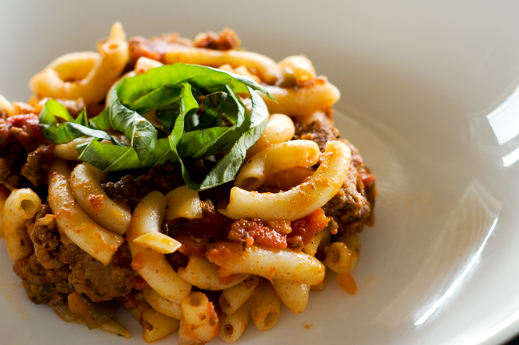 Who says cheap food can't look good?  I don't know many people who didn't grow-up eating some variation of beef and macaroni.  Probably because it is cheap and nutritious and yet familiar and fun enough that kids will give it a try.  Kay at Kayotic Kitchen posted her version of beef and macaroni or Dutch Macaroni and I knew it would be delicious and comforting as well as economical.  I made a few substitutions and it was great.
Beef and Macaroni
serves 6, prep 15 min, cook 40 min
1 pound ground beef, I used 85/15
1 onion, finely diced
1 bell pepper, finely diced
2 carrots, finely diced
2 garlic cloves, minced
1 tbsp butter
1 tbsp oil
2 tbsp tomato paste (or 1 small can)
28 oz canned diced tomatoes
1 tbsp dried oregano
1 tbsp dried parsley (or dried basil, I was out)
1 tsp sweet paprika
2 tsp sugar
salt and pepper
2 cups uncooked macaroni noodles
First finely dice the onion, pepper, and carrots.  This works with kids if the pieces are very small and uniform-big chunks of peppers and onions are going to lead to hysterical refusal to eat ("but there's green stuff on it!").  Kay puts hers through the food processor.
Cook the ground beef, seasoning with salt and pepper. Drain fat and reserve.
In the same pan, heat oil over medium heat and add butter.
Add the vegetables and garlic and stir to cook several minutes until soft.
Add the tomato paste and cook, stirring for a minute.
Add the un-drained diced tomatoes to the pan and the cooked ground beef.
Add the spices and turn down the heat to a simmer, cover the pan and cook for 30 min.
While sauce is cooking bring a large pot of salted water to a boil.
Cook macaroni until tender, reserve 1 cup of pasta water, drain.  Do not rinse.  If your sauce seems to be drying out at any point add in some of your reserved pasta water as needed.
Taste sauce and season with salt and pepper.
Combine with noodles. Toss to mix well and separate the noodles. Serve.
I totally forgot to serve this with some grated Parmesan, but it would be delicious.  This is something we will make often and it would also freeze well for anyone who is making meals ahead (I would undercook the pasta and reheat in the oven).
Cost Analysis:
1 pound grass fed Angus beef 85/15: $4.99
1 bell pepper: $0.50
2 organic carrots: $0.60
2 14.5 oz cans diced tomatoes: $1.18 ($0.79 each + 40¢ off coupon)
2 cups semolina macaroni: $0.85
pantry items not included in total: tubed tomato paste (can't remember how much this was), garlic cloves, spices, oil and butter
Total cost for 6 servings:  $8.12 or $1.35 per serving