January 8th, 2009 by katie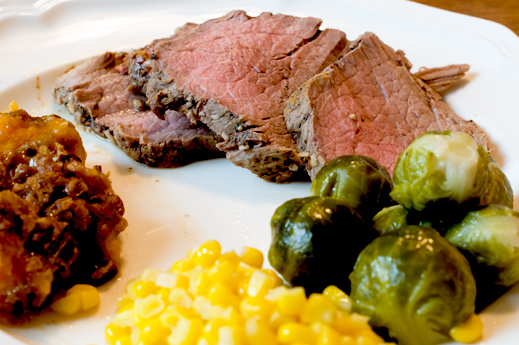 Tenderloin is one of my favorite cuts of beef. I know it often gets a bad wrap from foodies for being dry or flavorless but cooked properly, it can be moist and delicious. It is also a great low-calorie main dish. Tenderloin roasts are much more economical than steaks and can be purchased fairly inexpensively a few times a year as grocery store loss-leaders.
Roast Tenderloin
serves 6, prep 5 min, cook 30min, adapted from
Cooking Light
3 lb tenderloin roast, trimmed
1 tbsp fresh cracked black pepper
3 tbsp minced garlic
2 tbsp kosher salt
Heat oven to 350ºF.
Combine the spices and rub the roast all over.
Heat an oven-poof frying pan (that fits the roast) to high heat and quickly sear the roast all over to get some good color (my pan is non-stick but you could use some oil or cooking spray).
Place roast in the oven and bake until a meat thermometer read 130-135ºF. Medium rare is 140ºF but I always find that my meat is overdone at that point (almost medium well).
Allow roast to rest, covered in foil, about 15 min.
I also made the red wine sauce from the recipe but I prefer our standard red wine sauce. For this recipe, I reduced beef broth and red wine then added in the pan juices from the roast and continued reducing. It was good, but the roast was great without it. It is also very good leftover, cold in a salad or sandwich.