January 24th, 2009 by katie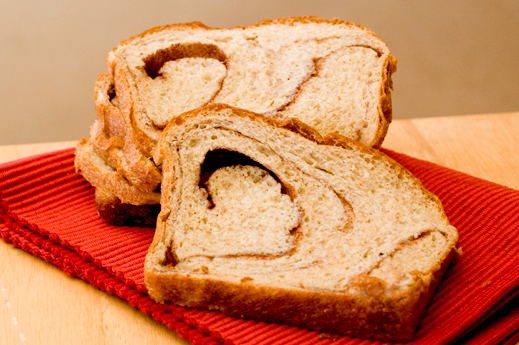 You knew once I posted my first bread post that it would only be a matter of time until cinnamon raisin bread came up.  This time I used Lisa's recipe for Bread for a Week.  It was delicious and since it makes 4 loaves I made two sandwich loaves and two cinnamon bread loaves.  You'll notice there are no raisins apparent.  I discovered I was out as I was rolling the bread out to sprinkle with cinnamon sugar.  However, if I had added raisins I would have chopped them and tossed them in the cinnamon sugar before I sprinkled it over the dough.
The cinnamon sugar at our house is actually a blend and always good to have on hand (also seen here).  I used about 1/3 cup but I would use a lot more next time.  Just roll out your favorite bread dough, brush with a beaten egg, and sprinkle with cinnamon sugar and raisins if desired.
Cinnamon Sugar
makes about 3 cups
2 cups white sugar
2/3 cups cinnamon
1/4 tsp nutmeg
Combine, store in an air tight container.  Use on toast, coffee, etc…

Posted in Breakfast, Condiments, Easy