October 2nd, 2008 by katie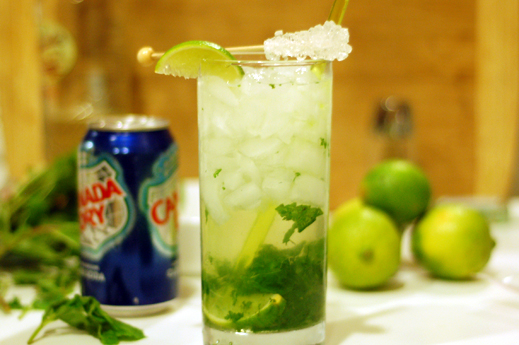 We don't drink many mixed drinks here in the Chaos household, generally preferring a nice glass of wine or an interesting beer. When we do have mixed drinks we tend to like simple concoctions with fresh lime wedges or other fruit. Mojitos fit the bill perfectly. Simply consisting of mint, lime juice, sugar, rum and club soda, mojitos are refreshing and light and perfect for a patio party during sultry summer nights. Lucky for us, it will be steamy here for several more months weeks. Tip your bartender well, but don't be afraid to make mojitos at home. Once you get the hang of it they are pretty simple. The bar tool called for in this recipe is a muddler
, but you can lightly crush your mint leaves however you see fit.
Mojito
makes 1, prep 3 min
6 large mint leaves
1/6 wedge of lime
2 tsp sugar
3 oz better quality white rum
crushed ice
6-8 oz club soda
Place mint leaves, lime wedge, and sugar in a high ball glass and muddle-just to gently crush the mint leaves to release the oils. It's not necessary to grind the leaves to a pulp. The mojito in the picture was a little overzealously muddled.
Add the rum and stir until the sugar is dissolved.
Add crushed ice and club soda. Stir and garnish with sugar cane, lime wedge, or a mint sprig.
I found they are much easier to drink with a straw. Also, one of our local restaurants serves these with a sugar cane stick and I searched and searched but to no avail. Every store was all: What's a mojito? What's sugar cane? So, I had to get the rock candy stirrers instead-which were kind of cool anyway.
Come by Saturday and see if you can identify the movie title I had to act out in our game of Charades.


Posted in Drinks