September 1st, 2008 by katie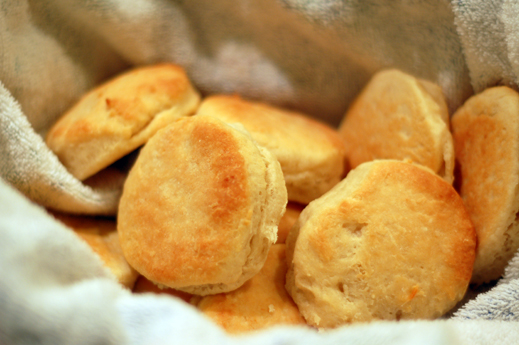 Look I actually made homemade biscuits! It wasn't nearly as hard as I had imagined it would be, although I definitely need some practice. When I was planning my mother's annual birthday dinner of fried chicken, coleslaw, and carrot cake, I thought homemade biscuits sounded like the perfect accompaniment. However the prospect of actually making biscuits from scratch was a bit terrifying. So I sought out an expert. I had been really wanting an opportunity to try this biscuit recipe because I adore the Homesick Texan blog and Lisa actually makes biscuits from scratch seem possible and even easy. Plus, I didn't need shortening-which I didn't have on hand.
The result was delicious. They didn't rise a whole lot but for my first biscuit making experience, I had a lot to contend with. First I par-baked them because I needed to time them with the generally disastrous fried chicken. Second, my mother keeps her thermostat at 82°F before we started cooking. So my butter kept pretty much liquefying immediately. So first time issues aside, these biscuits were delicious! I can't wait to try them again, and continue until I get them golden and perfect. And then I will freeze them so we can make biscuits and gravy any lazy weekend without having to run to the store first to get canned ones.
Photo Update: Try these with a little Better Butter.