June 26th, 2008 by katie
Beyond Merlot: Wine Reviews for Newbies
You might see a lot of red Zinfandels reviewed here, they tend to be a favorite of mine.  I like that they are very "complex" as the wine guy puts it.  And they really are complex, they tend to taste like berries and spiciness both.  They are not too thin or watery feeling but they aren't so thick you feel like you're chewing your wine.  Layer Cake Primitivo is awesome for these reasons.  It is not too peppery and not too fruity.  It is just a really delicious wine that gives you the opportunity to taste it's complexities without being overwhelming or difficult to drink.
Layer Cake also makes a Malbec which is equally delicious.  Both wines are very similar: fruity and peppery.  With the Primitivo being more peppery with some bite over the fruit and the Malbec being more fruity and soft but still with some interesting spiciness (see they are complex! many layers! cakes have layers!).  The best cheese I've had with the Malbec is an aged Manchego. Yum!
Both of these bottles are on the expensive side and will run you about $13-$15.  They are great wines to bring a wine-enthusiast hostess, as they are pretty middle of the road: not too light or too full-bodied.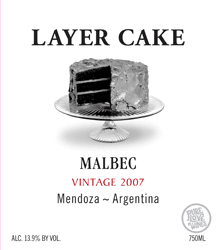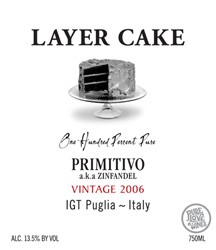 Posted in Wine