May 8th, 2016 by katie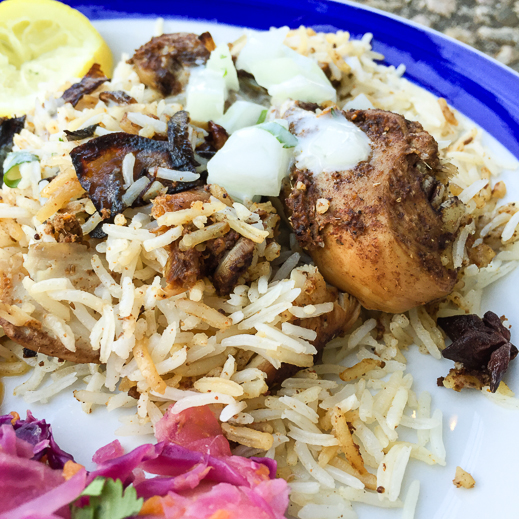 So I did a neat thing.  I went to meetup.com and found some other people in my town who like to cook and we got together and we cooked!  We talked about food and we learned a new recipe and we had so. much. fun.  I can't wait to do it again.
So this is one of those recipes that isn't exactly hard, but takes a little attention and time.  It isn't quick or easy but we did make it start to finish in about 90 minutes.  And it is so good.  Spicy but not too hot, interesting and different but not inaccessible.  Rakesh says you should make it over and over again until you have it perfected.  I completely agree.
Rakesh's Chicken Dum Biryani
serves 8, prep 30 min, cook 60 min
1/4 cup vegetable oil
1 large white onion, sliced
20 leaves mint
1/2 cup fresh cilantro
12-13 green thai chilies
1 whole chicken, skin removed, divided into pieces on the bone
5 tbsp prepared ginger garlic paste
4 tbsp garam masala
1 tbsp cayenne
2 tsp Indian red chili powder
2 tsp cumin powder
1 1/2 tbsp coriander powder
1 cup yogurt
4 star anise pods
2 large bay leaves
3 cups Basmati rice, washed at least twice
1/2 cup ghee
salt to taste
Heat vegetable oil over medium heat until shimmering.  Add white onion slices and sprinkle with salt.  Fry onion slices until well browned all over but not charred.  Remove from the oil with a slotted spoon and drain on paper towels.  Reserve onion oil.
In a blender or food processor combine mint, cilantro, and thai chilies, puree.  Add water by the tsp if needed to loosen the mixture.  Reserve.
In a large bowl, combine chicken pieces, ginger garlic paste, garam masala, cayenne, red chili powder, cumin, coriander, reserved onion oil, 3 tbsp cilantro puree, 1/2 of the fried onions, yogurt and salt to taste (at least 2 tbsp).  Taste mixture and adjust seasonings as needed.
Fill a pot with approx. 6 cups of water-enough to eventually cover rice by 1 inch.  Add star anise, bay leaves, 2 tbsp vegetable oil, and a tbsp salt.  Bring water to a gentle boil over high heat.  Add basmati rice and stir to combine.
Turn heat to low, simmer rice 8 minutes and turn heat off.
Add chicken pieces in marinade to a large pot.  Using a slotted spoon, scoop up the par cooked rice and allow the cooking water to drain off before adding it to the pot on top of the chicken mixture.  Retain the star anise pods and bay leaves in rice scoops.
After approx. half of the par cooked rice is transferred to the pot by spoonfuls, drain the remaining rice and add it to the top.  Smooth the surface of the rice so the chicken mixture is completely covered and spoon ghee all over the top.
Cover the pot with a tight fitting lid.  To really seal in the steam it is important to reinforce the seal by folding several paper towels around the circumference of your pot and weighting the lid to ensure the most steam proof seal as possible.
Heat over high approximately 5 minutes.  If using a non-stick pot, keep on high heat 20 min.  If using a stainless steel pot, transfer the pot to sit inside another pan so the biryani will not burn on the bottom.  Keep on high heat for 10 min.
After 10-20 min depending on your pot, turn heat to medium low.  Cook an additional 10 minutes and then check chicken pieces for tenderness.  If needed, cook an additional 10 minutes.
Once tender, turn chicken and rice out onto a large serving bowl or platter.  Toss mixture to fully combine, being gentle and careful not to break up the rice with your spoon.  Top with remaining fried onions.  Biryani should be served with Raita, raw diced onions, mint and lemon.
Rakesh says that for a large group you can also bake your Biryani in the oven using a foil pan very very tightly sealed with 7-8 layers of foil to prevent steam from escaping.  Bake on 500ºF for 20 minutes then 450ºF for 30 min before checking the chicken for doneness.
Raita
1/2 large diced onion
shredded carrots (optional)
2 cups yogurt
salt to taste (1 tsp)
fresh cilantro, chopped (2 tsp)
Combine Raita ingredients and add water to thin as needed.
Rakesh's Garam Masala Spice Blend
20 cloves
2 tbsp black cumin seeds
7 cinnamon sticks, 6″ -7″ long
12 star anise
4-5 green cardamom pods
Combine spices in small batches in a spice or coffee grinder, blitz until it forms a fine powder.
Rakesh's Recommended Basmati Rice Brands (rice grains should reach close to 1 inch when cooked):
Pari Basmati Rice
Aahu Barah Basmati Rice
India Gate Aged Basmati Rice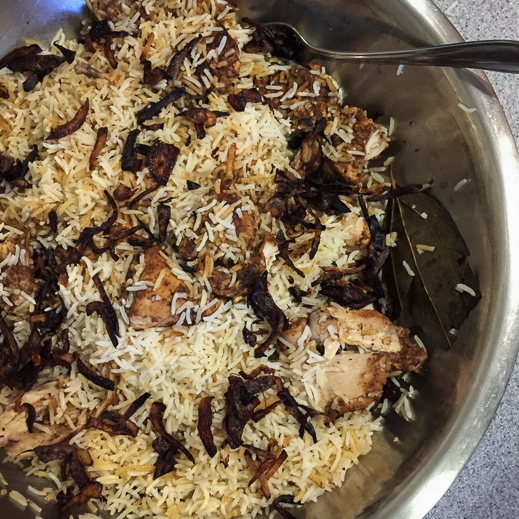 Posted in Main Dish