May 15th, 2016 by katie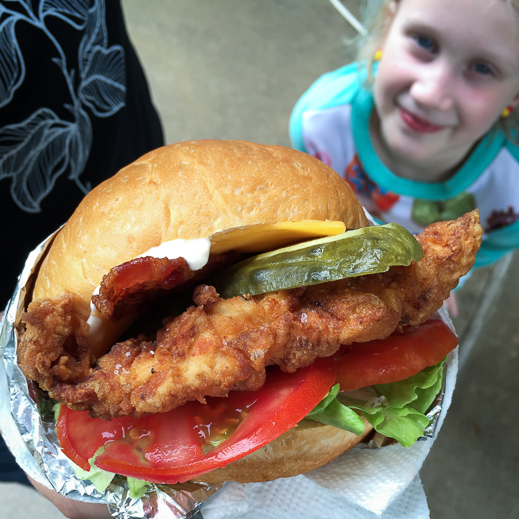 If you know how to fry stuff and you know how to make a sandwich then you've pretty much got this recipe nailed already.  Now aren't you excited to go make some crispy chicken sandwiches?
Crispy Chicken Sandwiches
makes 4, prep 15 min, cook 8 minutes
1 whole chicken breast (2 halves)
1 egg
1/4 cup pickle juice
1 cup flour
salt and pepper to taste
oil for frying
Heat frying oil in a deep fryer or heavy pot until 350ºF.
Divide and trim chicken breasts.  Using a mallet or heavy bottle, flatten each breast half to an even thickness and cut into two equal pieces.  You should have 4 equal sized chicken breast pieces.
Combine egg and pickle juice in a small bowl and whisk until uniform.
Add flour to a shallow plate and season with salt and pepper.
Working with one piece at a time, dip chicken in flour and shake off excess then dip into egg mixture, coating both sides.  Allow excess egg to drip off and dip back into flour, patting to coat all over.  Shake off excess again and place on a wire rack to rest while you bread the rest of the chicken pieces.
Drop chicken pieces carefully into hot oil and fry for approximately 6-8 minutes or until breading is golden and meat is opaque and juices are clear.
Serve fried chicken pieces on toasted buns with your favorite sliced cheese, bacon, pickles, lettuce, tomatoes, and all of the things ever.