May 17th, 2016 by katie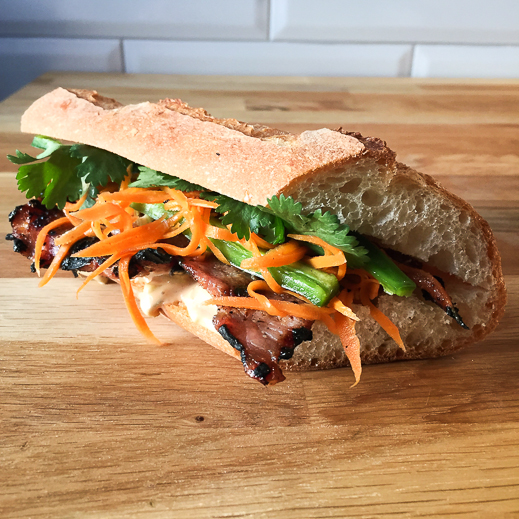 This is my favorite way to enjoy a really good, really really good, baguette.  This is the one to make on grocery day when your herbs are still perky and your baguette still warm from the bakery.  The chargrilled pork couldn't be simpler so mix up your spicy mayo and quick pickled veggies first because as soon as the pork comes off the grill you'll be ready to eat.
Chargrilled Pork Banh Mi
makes 4 sandwiches, prep 30 min, cook 10 min
1 pork tenderloin, sliced very thinly
5 tbsp fish sauce
1/4 cup sugar
8 garlic cloves, minced
1/4 tsp cracked black pepper
pickled veggies
spicy mayo
1 fresh baguette cut into 4 equal lengths
fresh cilantro
Prepared pickled veggies and spicy mayo if necessary.
Use a bowl or large zip top bag to combine sliced pork, fish sauce, sugar, garlic, and black pepper.  Let sit.
Heat a grill over high heat and oil the grates.  Alternatively, you can cook the pork in a very hot cast iron pan.
Use tongs to lay the pork slices out flat, not crowding each other. Cook for about 1 minute and flip, cook second side until browned and remove to a plate.  Cook remaining pork slices the same way.
 Slice baguette pieces horizontally without breaking through.  If you have very thick baguettes remove some of the inside bread.  Spread with mayo and layer meat and pickled veggies.  Top with fresh cilantro springs.
Spicy Mayo
makes approx 1 cup
2/3 cup mayo
2 tbsp Sriracha hot sauce
2 scallions, sliced thinly
Combine and refrigerate.  Keep on hand for sandwiches, sushi, rice bowls etc..
Quick Pickled Veggies
makes 2 cups, prep 10 min
2-3 carrots
1 daikon radish
1-2 jalapeños (optional)
2 tbsp sugar
2 tbsp rice vinegar
1/2 tsp salt
Use a julienne peeler or chef's knife to slice the carrots and daikon into thin strips.
Deseed the jalapeño if desired and slice thinly.
Combine sliced veggies with sugar, vinegar and salt.  Allow to sit at room temp.
Pickled veggies will last a day or two in the fridge.