November 8th, 2013 by katie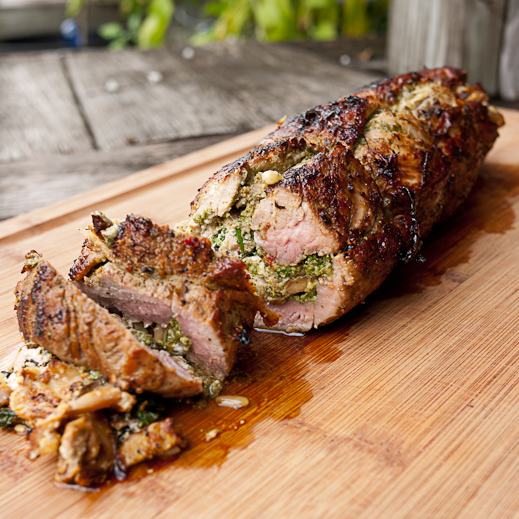 I've missed you guys!  I have always felt like there is no reason to apologize for the time you need away.  We all have lives and sometimes everything is just too much.  I have three busy kids, a full time job, am enrolled in a Master's degree program and just generally sleep-deprived and busy!  I am not afraid to admit the amount of take-out we eat on a weekly basis right now.  My focus lately has been simple family favorites that don't take a lot of time, ingredients, or effort.  But I miss you guys and I miss the focus on new ideas and new food.  So here I am with a great fall recipe (stick to your ribs and turn on the oven)!  I have a few new ideas coming up for you guys as well as some Nespresso give-aways.  So stay tuned!  I'm still here and I can't wait to tell you what's in store!
Stuffed Pork Tenderloin
1 pork tenderloin
1 oz dried mushrooms, soaked and chopped
3 cups kale or spinach
4 oz goat cheese
2 tbsp sun dried tomatoes in oil
2 garlic cloves
1/4 cup pine nuts
1 tsp rosemary, minced
1 tsp thyme leaves, minced
zest of one lemon
salt and pepper
1/2 cup pesto
2 tbsp oil or butter
1 tbsp honey
Preheat oven to 425.
Cut a deep slit lengthwise on the tenderloin from end to end without going all of the way through.  Open the tenderloin and pound out as flat as possible.
Combine mushrooms through pesto in a bowl.  Spread mixture over pounded tenderloin and re-roll.  Tie with kitchen string.
In an oven safe heavy skillet, heat oil or butter and honey over medium heat until browning but not burnt.
Brown tenderloin on all sides.
Transfer skillet to the oven and bake 10 more minutes.