November 20th, 2013 by katie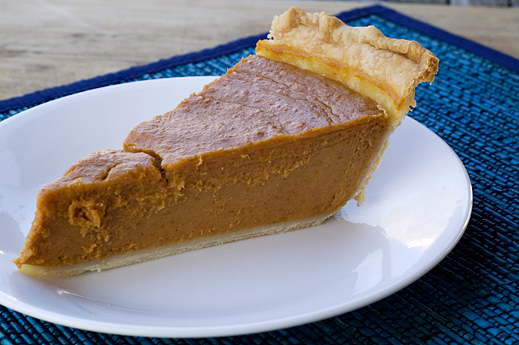 I've wanted to share this pie with you for years.  Years!  But since no one cares about pumpkin pie after Jan 1st and my prior mentioned problem with, er, planning, I've never had a post ready to go at a relevant time.  But this is the year-although the photos are dated (seriously I cant possibly make pumpkin pie before the actual holiday, can I?), this is absolutely my favorite pumpkin pie.
Pumpkin pie is such a must-have tradition at our Thanksgiving table, yet it has always been my least favorite pie.  Don't get me wrong, I always have a couple slices-it is still pie after all-but I never had the same passion for it as other pies and rarely made it myself.  When a co-worker told me a couple of years ago that she makes the BEST pumpkin pie, I was curious.  Was there actually another recipe for pumpkin pie different than the ubiquitous Libby Pumpkin Pie Recipe?  And it actually tasted different?  No way.  I had her write down the ingredients and vowed to try it, but didn't really expect much.  Well I was floored by the difference this pie is creamy and luscious.  The combination of pumpkin with a hint of spice was so familiar yet so much better!  I have to say that I love this pumpkin pie and now look forward to making it every year.
Not-Libby's Pumpkin Pie
make 2 large deep dish pies, prep 10 min, bake 1 hour
6 cups pumpkin puree (approx 4 cans or 2 jumbo cans)
2 (12 oz) cans evaporated milk
2 1/2 cups sugar
1 tsp mace or nutmeg
2 tsp cinnamon, heaping
1 tsp ginger
1 tsp salt
5 eggs
2 deep dish pie crusts
Whip together ingredients, pour into pie shells.
Bake at 425° for 15 min then cover crusts and bake at 350° for 40 min or until set.
I have also used this filling to make some mini-pies in a cupcake tin.  You can freeze these and thaw at room temperature for a pumpkin-y treat any time of the year.