April 1st, 2013 by katie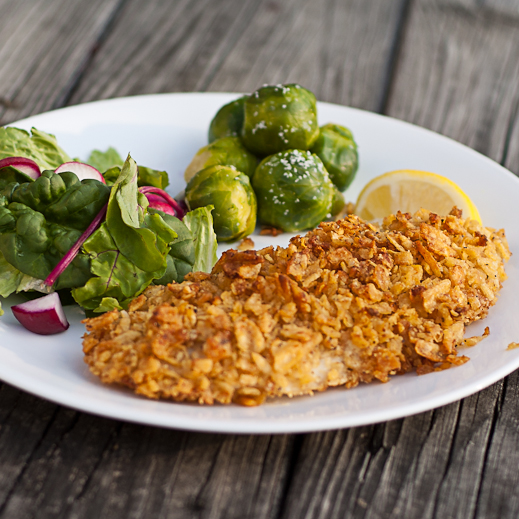 Chips on Top of Fish or Fish in Chips?  That was the debate around the dinner table tonight as we dug in to this delightfully simple meal.  We talked about STAAR tests and chores and who said what on the bus to school too but mostly it was what to call the crazy concoction on their plates that they thought was fried chicken.  I have to admit this one was a winner.  Paired with a fresh salad prepared by my fifth grader from vegetables she grew in the garden at school-I can't imagine a more perfect meal together.
This is a perfect way to serve fish to picky eaters.  Crunchy, buttery, and slightly sweet, you can use any white fish you like and experiment with different chip flavors.  I wanted to use Jalapeno chips but swapped for Salt and Pepper chips for the kids. 
Kettle Cooked Potato Chip Crusted Fish Fillets
serves 6, prep 20 min, cook 15 min
6 white fish fillets, like Cod, Halibut or Tilapia
16 oz kettle chips (2 bags)
1/2 cup mayo
2 tbsp lemon juice
salt and pepper, to taste
Preheat oven to 400F.
Thaw fish quickly in cold water if needed.  Pat dry on paper towels.
Use a food processor to crush chips to bread crumb size.  Spread chip crumbs over a large plate.
On a separate plate stir together mayo and lemon juice.
Place one filet in the mayo and coat all over, then place in the chip crumbs and pat them into place.  This is messy and the chips won't want to stick, just keep pressing all over with your hands then carefully place on a baking sheet.  You can pat more crumbs on top and around the sides on the baking sheet.  Repeat with remaining fillets.
Bake fish for approximately 15 minutes or until done, thicker fillets may need slightly more time.
Salt and pepper to taste, my chips were plenty salty so I didn't need any additional seasoning.