April 24th, 2013 by katie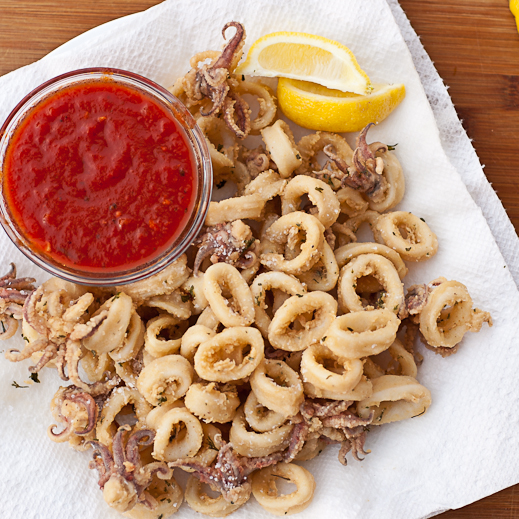 I can't even tell you.  I can't even tell you how excited this picture makes me.  I LOVE fried calamari.  There is no natural explanation for this level of excitement and yet here it is.  Yum.  There is just something about the tender rings, crisp and chewy, with a hint of the sea.  And don't get me started on the creepy crunchy tentacles.  Tentacles!  Warm and salty, with a generous dollop of chunky marinara and a squeeze of lemon-a plateful of fried calamari is one of those special moments.  It's one of those perfect, lazy weekend snack-meals.  Like a bottle of wine and a platter of amazing cheese.  Feel free to whip up a garlicky mayonnaise or serve these with a sweet Thai chili sauce but I love them alongside a big bowl of marinara-like a perfectly al dente pasta or a crusty bread. 
Fried Calamari
serves 2-4, prep 10 min, cook 15 min
1 lb frozen calamari (tubes and tentacles!), thawed under running water
2 cups flour
2 tbsp dried parsley
1 tbsp garlic powder
salt and pepper
oil for frying
lemon wedges
Cut calamari tubes into 1/2 inch rings if necessary.
In a large pot, heat several inches of oil over medium high heat.  If using a thermometer, heat oil to 350ºF.
Mix flour, parsley, garlic, salt and pepper together.
Toss calamari in flour mixture until well coated.
Fry calamari in batches until golden brown and crisp.  About 1 minute per batch if your oil is hot enough.
Drain on paper towels.  Sprinkle each batch with salt while hot. Serve with lemon wedges and marinara or aioli.

Posted in Easy, Fast, Snacks/Appetizers, Things I Love, Uncategorized