February 25th, 2013 by katie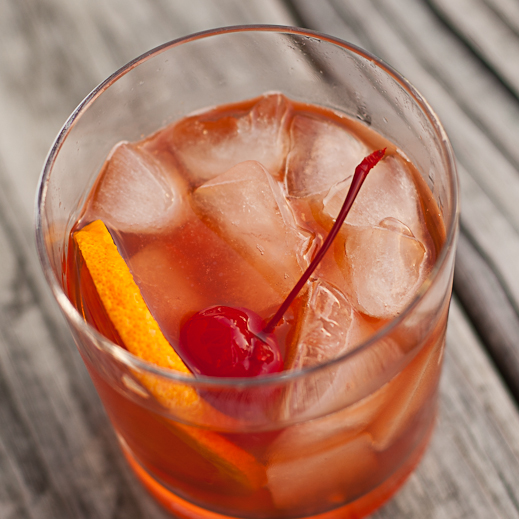 There is nothing better to carry away the day's troubles than an excellent cocktail.  My favorite quote about cocktails is: "Keep it simple, make it stiff."  It is attributed to my hero Mark Bittman but I think actually originated with the Kitchn.  The perfect cocktail is a careful balance of sweet, sour, and the nuances of a good spirit.  A truly Mad Men worthy cocktail is a sipper-one that allows you to slowly appreciate the subtleties of the drink.  One of our favorites is the classic Old Fashioned.  It is fragrant with fruit oils, sweet enough, and highlights the flavors and balance of the whiskey.  Because your cocktail is so simple, the best ingredients and the right balance are paramount. We particularly like Woodford Reserve or Maker's Mark, with homemade simple syrup.  A blood orange or Cara Cara is a nice variation as well. 
Old Fashioned Cocktail
serves 1
1 orange wedge
1 maraschino cherry
3 dashes bitters
1/2 oz simple syrup
2 oz whiskey
splash of club soda
ice
In a rocks glass, place orange wedge, cherry, bitters and simple syrup.
Muddle fruit until bruised and fragrant.
Add whiskey and stir to combine.  Splash with club soda and add ice.
Taste and add simple syrup of more club soda as desired.
If you don't have a muddler
you can use the back of a spoon to gently press the fruit and release the natural o
ils from the orange peel.
Simple Syrup
makes 2 cups
Combine sugar and water in a small sauce pan.
Bring to a boil and stir until sugar is dissolved.  Set aside to cool.
Keep your simple syrup in a squeeze bottle in the fridge.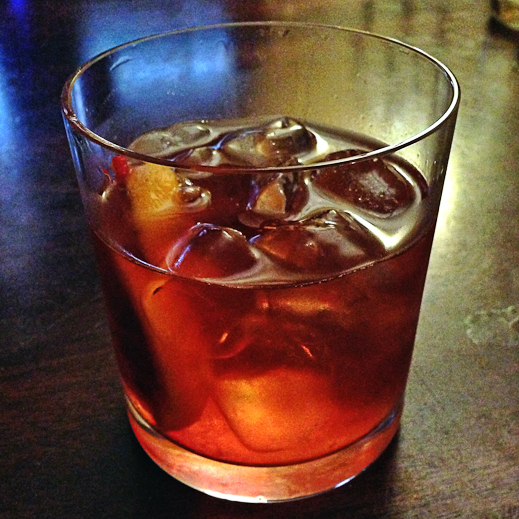 Posted in Snacks/Appetizers, Things I Love