January 7th, 2013 by katie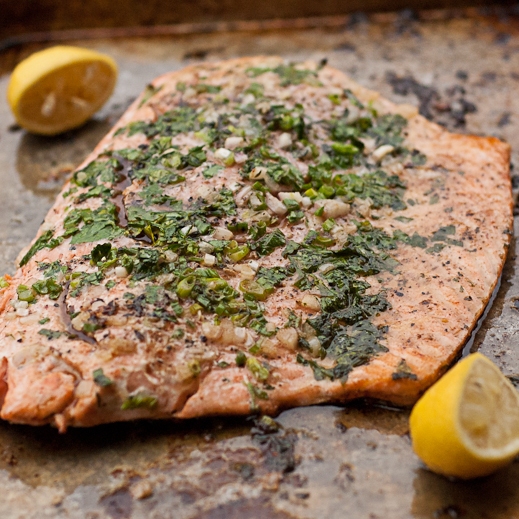 I hope each of you had a wonderful, restful holiday.  Our holiday was the usual whirlwind, race to the finish dash that seems to happen every year no matter how stalwart my intentions for better planning.  I like this dish because it has the same comforting, special feel of a Sunday or Holiday roast but takes no time at all to prepare and is a healthier alternative to fatty roasts.  It is a great, quick meal for a weeknight and the fish turns out rich and luxurious.  It is also a very forgiving recipe, use whatever herbs you have on hand and feel free to roast the fish a little longer if you like it more well done.  We like our salmon on the rare side of medium but not everyone does.  One note: this roast is buttery and divine and better suited to a leaner wild salmon fillet, a very fatty farmed fillet will be a little over the top. 
Butter Roasted Salmon
serves 6, prep 10 min, cook 12 minutes, adapted from
Mark Bittman, How to Cook Everything
2 tbsp oil
2 tbsp butter
2-3 lb salmon fillet
4 tbsp whatever fresh herbs you have on hand, chopped (I used parsley, green onion, and cilantro)
2 tbsp shallot, minced
salt and pepper
fresh lemon juice
Heat the oven to 475F.  On a rimmed baking sheet, heat oil and butter in the oven while it preheats (keep an eye on it and don't let it burn!).
Sprinkle salmon with salt and pepper.  Sprinkle chopped herbs and shallot all over hot oiled baking sheet.
Place salmon flesh side down (skin side up) over the herb mixture and roast for about 5 minutes.
Flip the roast over and roast for another 5 minutes and check between the flakes for doneness.  Ten minutes is a perfect medium-rare temperature for us but you may wish to give it another 3-5 minutes.
When done, squeeze lemon juice all over the roast and sprinkle with additional salt and pepper if needed.