October 17th, 2012 by katie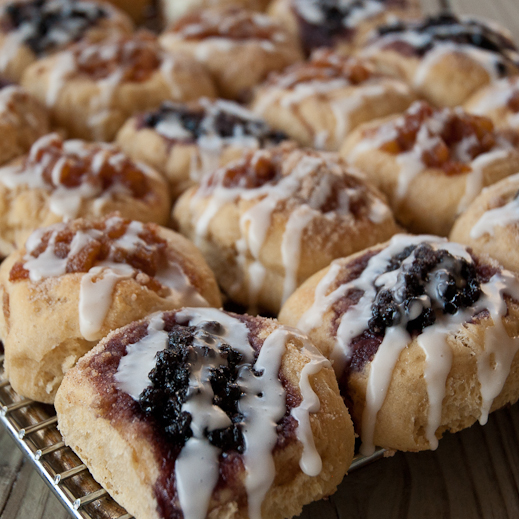 If you had a Czech Grandma she would make you these kolaches.  If you are not familiar with this Texan breakfast treat, kolaches are decadent sweet yeast rolls that are stuffed with fruit or savory fillings.  Here, while there are plenty of independent kolache bakeries, kolaches can be found pretty much anywhere you can get breakfast.  This recipe for the sweet dough is my favorite kind-it is a friend of a friend's grandma's recipe which gives few measurements and such specific instructions as "salt til you can taste it."  Be warned, it makes a ton of dough, enough for about 4 dozen fruit kolaches.  Luckily, they freeze perfectly and thaw quickly at room temperature. 
For parties, potlucks, or a treat for the office, I like to make half fruit and then stuff the remaining with sausage and jalapenos or ham and cheese.  The fruit kolaches can sit at room temperature, covered, for a couple of days.  This is a great recipe to make on a chilly weekend puttering around the house. 
Kolaches
makes up to 48 kolaches depending on size, prep 30 min, cook 12-15 min, rise time approximately 3 1/2 hours
3 packets yeast
1/2 cup warm water, 120 degrees
8 cups flour, divided
1 cup shortening, melted and cooled to 120 degrees, plus additional for brushing dough
3 cups warm milk, 120 degrees
1 cup sugar
1 tbsp salt
2 eggs, beaten
crumb topping
1/2 cup flour
1 cup sugar
1 tsp cinnamon
2 tbs butter, meler
In a large bowl (5+ quart), dissolve yeast in warm water.  Stir in 1 cup of flour to make a paste.  Allow this mixture to rise for 30 minutes.
To the risen mixture add shortening, milk, sugar, salt, and eggs.  Add remaining flour 1 cup at a time until dough comes together and is slightly sticky.  Allow dough to rise again for about an hour.
Punch down dough and allow to rise again for about an hour.
Prepare two greased cookie sheets.  Pull off egg sized pieces of dough and roll into a smooth ball. Place dough balls on the cookie sheet flattening slightly.  For savory kolaches, wrap dough around sausage or other filling and seal, place seam side down.
Brush dough with melted shortening and let rise again, about 30 minutes.
For fruit kolaches, make an indention in each dough ball and fill with fruit topping and sprinkle with crumb topping.  Let rise again for 30 minutes.
Bake kolaches at 400 degrees until browned, approximately 12 minutes.
You can always buy canned fruit fillings for your kolaches (especially poppy seed or lemon curd) but you can also make your own easily while your dough is rising.  I typically make an assortment of flavors so the recipe below is for a smallish batch of fruit filling.  My personal favorites are apple, blueberry, and cheese.
Fruit Filling
makes enough filling for about 8 kolaches
2 cups dried fruit, chopped if necessary (prunes, apples, blueberries, apricots, etc..)
water to cover
1/2 cup sugar
1 tsp cinnamon
While dough is rising, place chopped dried fruit in a small pot and cover with water.
Bring to a boil and boil until fruit is soft, approx 10 minutes.
Drain fruit and mash with sugar and cinnamon.
Cream Cheese Filling
16 oz cream cheese
1 cup sugar
2 tsp lemon juice
1 1/2 tsp vanilla
1 tbsp sour cream
Combine all ingredients together with a hand mixer.
While not a traditional topping, the Yankee in me likes a sweet drizzle of icing on top of my fruit fillings, similar to a danish.
Icing
1 cup confectioner's sugar
1 tbsp butter, softened
1-2 tbsp milk
Combine sugar and soft butter, slowly add milk until the desired consistency.

Posted in Breakfast