October 9th, 2012 by katie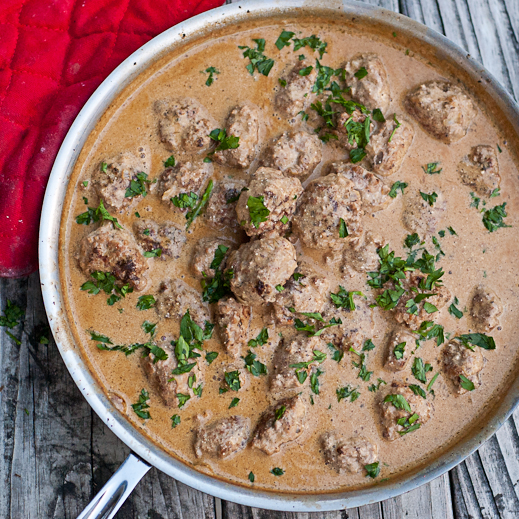 We love Swedish meatballs but I've never really found a recipe that I felt was worth sharing.  You can make any meatball, combine beef gravy and sour cream and have pretty tasty Swedish meatballs.  This meatball recipe is a little fussy: sauteing the onion, using a combination of beef and veal, so feel free to use any meatball recipe you are comfortable with (although these are some really great meatballs).  The technique for making the gravy is spot on and oh so delicious.  The sauce is beefy and creamy and combined with the tender meatballs and fresh herbs, this is perfect fall comfort food.  Be sure to serve over rice or egg noodles or with crusty bread for sopping up the gravy! 
Swedish Meatballs
serves 6, prep 15 min, cook 30 min, adapted from
CHOW
3 tbsp butter, divided
1 onion, chopped
1 slice white bread, torn
1/2 cup milk
1/2 lb ground chuck
1/2 lb ground veal
1  egg
1 1/2 tsp salt
3/4 tsp freshly ground black pepper
1/2 tsp nutmeg
2 tbsp flour
2 cups beef broth
1/2 cup sour cream
3 tbsp flat leaf parsley, minced
 In a large frying pan over medium heat, melt 1 tbsp of the butter. Add onion and saute until soft.
In a large bowl combine bread and milk.  Add onion, meats, egg and spices.  Mix ingredients until well combined and slightly sticky.
Melt the remaining butter in the pan over medium heat.  Roll half of meat mixture into walnut sized balls and add to pan.  Fry, turning occasionally until cooked through.  Remove meatballs to a plate and repeat with second half of meat mixture.
Sprinkle flour in the pan and whisk, scraping up any browned bits, and cook about 1 minute.
Whisking constantly, slowly pour in broth. Bring to a simmer and cook, stirring frequently, until the sauce thickens. If desired, strain and discard the solids. Transfer the strained sauce back to the pan.
Reduce heat to low and whisk in sour cream. Season with salt and pepper as needed. Return meatballs to the pan until heated through. Sprinkle with parsley and serve with egg noodles or rice.
I doubled the recipe and froze half of the meatballs and sauce.  They reheated just fine in the microwave or you just warm them on the stove top and serve with fresh rice or noodles.

Posted in Easy, Main Dish, Uncategorized