October 13th, 2012 by katie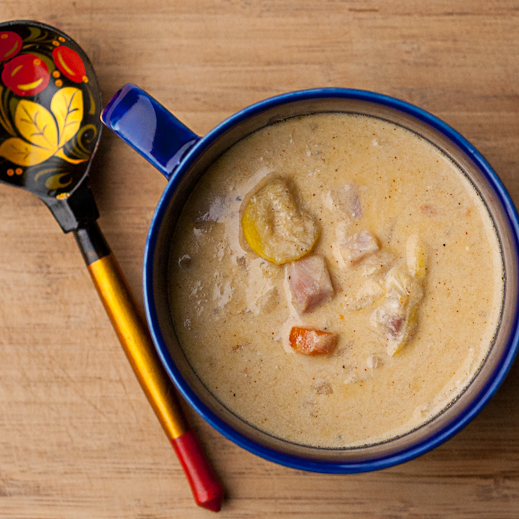 I knew the minute I pinned this soup that it would be something we would love.  It's just not a holiday at my house if my mom hasn't made her squash casserole: a cheesy, creamy mix of yellow squash, butter, onions, and cheddar.  Since I always struggle with what to do with all of the ham leftovers after the holidays-not a big lentil or split pea fan-I am excited for this soup to become a new tradition.  Cheese, squash, and Paula Deen-you know this soup is going to be luxurious!  It is also, surprisingly, not as unhealthy as the name Paula Deen might imply.  I cut the butter and used fat free evaporated milk and it was perfectly thick and velvety.  You could go even farther and use lighter sour cream as well.  Otherwise, it is mostly vegetables.  Of course I did add more cheese, because: cheese.  You could add any array of spices you like to this dish but I like it squashy, cheesy and buttery-just like mom's.         
Cheesy Squash and Ham Soup
serves 6, prep 15 min, cook 30 min, adapted from
pauladeen.com
4 tbsp butter
1 onion, chopped
4 carrots, chopped
2 lbs yellow squash, sliced into rounds or half moons (about 4 large)
1 can evaporated milk, fat-free is fine
1/2 cup sour cream
1 cup white cheddar
2 cups cooked ham, chopped
1 1/2 cups vegetable broth
1/4 tsp nutmeg
1/4 tsp cayenne
salt and cracked pepper, to taste
In a large pot, melt butter over medium heat.  Add onions, carrots and squash.
Cook vegetables for 20 minutes or until squash is much reduced and very soft.
Add milk and sour cream and stir to combine.  Simmer soup until bubbily.
Turn off heat and stir in cheese, ham, vegetable broth, and spices. 
Re-warm soup gently if needed and serve. 
One trick, I sliced my squash unevenly, that way some pieces would have more texture while others would melt into the cream base.