July 11th, 2012 by katie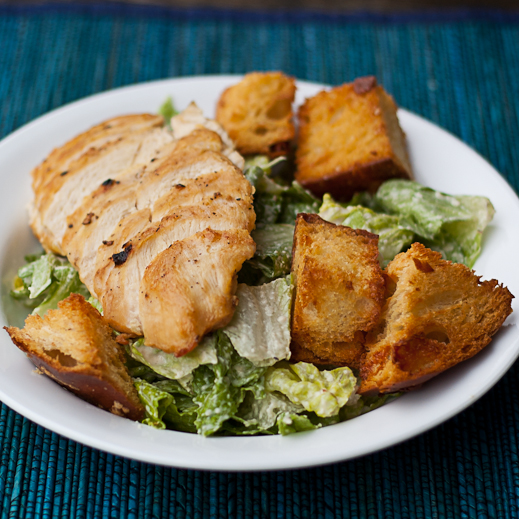 I am still trying to find that weeknight balance.  It pains me to say it, but I think it is somewhere between semi-homemade and ordering take-out.  Not to say there aren't wonderful meals that can be made between your commute and bedtime stories.  For me it isn't the cooking, over the years I have learned how to make great, from-scratch food quickly (hint: practice).  No, for me it is the clean-up. Take this delicious, from scratch Caesar salad.  It took a skillet, a baking sheet, the blender, and a salad bowl.  That's just too many dishes to wash after dinner.  Fortunately, every meal is still a learning opportunity.  I don't think you need the scratch dressing (good-bye, blender).  If you are willing to toss your own lettuce in bottled dressing then you can also forgo the salad bowl.  The homemade croutons are a must but luckily can be made ahead and kept in the freezer (¡adios! baking sheet).  You are left with a quickly seared chicken breast and one skillet to wash out-not too bad!  Below are recipes for amazing homemade croutons and perfectly seared chicken breasts. 
Homemade Croutons
makes approx 6 cups, prep 5 min, cook 20 min
1 loaf good bread (any bread will do depending on the variety of crouton you want)
1/4 oil, infused is best-such as garlic, pepper, etc..
seasoning to taste
Preheat oven to 400°F.
Cube bread into bite sized pieces.
In a large bowl, add bread cubes and drizzle with oil.  Toss to coat.
Add desired seasonings: salt, pepper, garlic powder, dried herbs, etc… to taste.
Bake cubes for approximately 8 minutes.
Flip, toss, and turn cubes.  Bake another 8 minutes.  Check cubes for even browning, toss again and continue baking until golden.
Cool croutons and store in a freezer bag in the freezer.  Remove individual croutons before serving, thaw for a few minutes at room temp.
Sauteing a chicken breast is hardly a new idea to most.  However there is a fine line between a nicely seared, moist breast and a dried out, over-cooked one.  The trick is to combine searing and poaching.
Perfect Sauteed Chicken Breasts
serves 4, prep 5 min, cook 15 min
4 boneless, skinless chicken breasts, trimmed of fat
2 tbsp oil
salt and pepper
1/2 cup water
Heat a 12 inch skillet with a lid over medium heat.
Pat chicken breast dry with paper towels.  Sprinkle all over with salt and pepper.
Add oil to the pan and let warm until shimmering.
Add breasts in one layer and cook without disturbing until nicely seared on the bottom, about 8 minutes.
Flip breasts and add water to the pan.  Cover and simmer until water is evaporated, about 8 minutes.
Remove breasts and cool, slice at an angle for fancy.