July 9th, 2012 by katie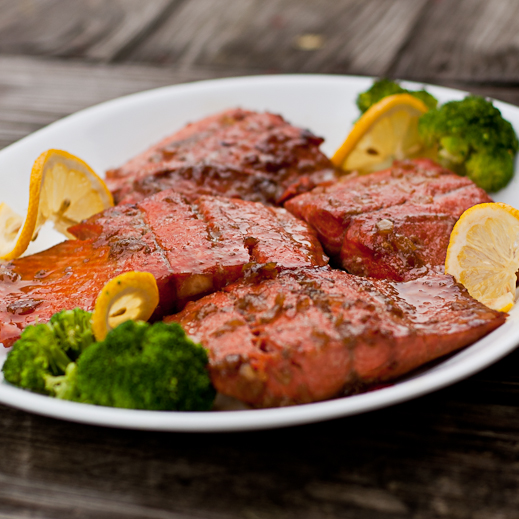 If you are like me-and chances are, if you read food blogs you are at least a little bit like me-you probably have a stack of hand me down recipes somewhere in your house.  Passed on from friends or family, printed on the internet, torn or photocopied from magazines, these are the "some day" recipes.  The ones that you'll get around to, yet the stack keeps growing.  My friend Donna gave me her recipe for this dish a year ago.  It is one of her favorites and she makes it frequently but it wasn't until she brought me some of the finished product that I just had to dig the recipe out and make it myself.
I enjoy fish but salmon can be a little too strong for me.  Recipes like this work so well because it pairs the rich fish with equally strong flavors.  You can grill the salmon  using the marinade as a basting sauce, or pan fry it using the marinade as a pan sauce.  Either way, keep a close eye on it because the sugar in the marinade will quickly scorch. 
Bourbon Basted Salmon
serves 4, prep 15 min, cook 10 min, marinate at least 1 hour
1 1/2 lb salmon fillets, skin removed
1/4 cup brown sugar
3 tbsp bourbon
3 tbsp chopped onion
2 tbsp soy sauce
2 tbsp oil
In a large zip top bag, combine all ingredients.  Refrigerate for at least one hour.
Heat a large frying pan over medium heat.
Add salmon and marinade to the skillet and simmer, turning fillets frequently as sauce reduces and thickens.
Alternately, remove salmon from marinade and grill, carefully turning to keep it from burning. Baste with remaining marinade until fish is charred on edges.
Grilled is definitely the best here but the skillet method is also delicious and better suited for nights when you don't want to fire up a grill.