December 6th, 2011 by katie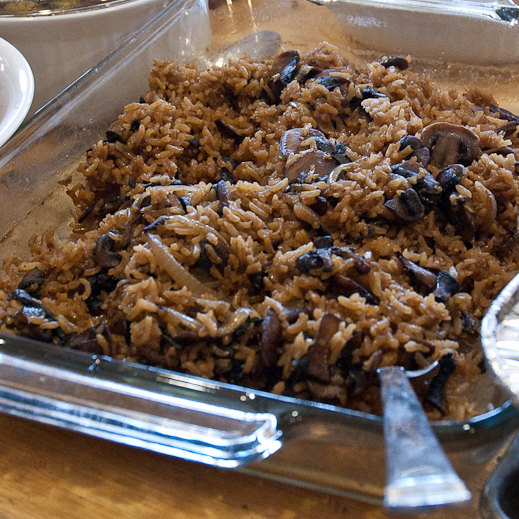 This wonderful rice casserole is one of my mother-in-law's holiday side dishes but it is delicious and comforting with any meal.  It bakes in the oven leaving you time to worry about your other dishes.  Her original recipe calls for a can of sliced mushrooms and a can of condensed french onion soup but the french onion soup has gotten difficult to find so this year we fancied it up with fresh sliced mushrooms, sauteed onions, and beef stock. 
Mushroom Rice Pilaf
serves 8-12, prep 10 mins, cook 75 min (15 min hands-on)
4 tbsp butter, divided
2 cups thinly sliced mushrooms
1 small onion, sliced in rings
1 cup long-grain white rice
24 oz beef stock, or 1 (10 oz) can beef consomme and 1 (14 oz) can beef broth
Pre-heat oven to 350F.
Melt 2 tbsp butter over high heat.
Saute onions and mushrooms until slightly caramelized.
Pour mushrooms and onions into a large casserole.
Melt remaining 2 tbsp butter over medium heat and saute rice until toasted and beginning to brown.
Pour toasted rice into casserole and add beef stock.  Stir to combine.
Bake uncovered for about one hour or until rice is tender.

Posted in Easy, Sides, Uncategorized