December 22nd, 2011 by katie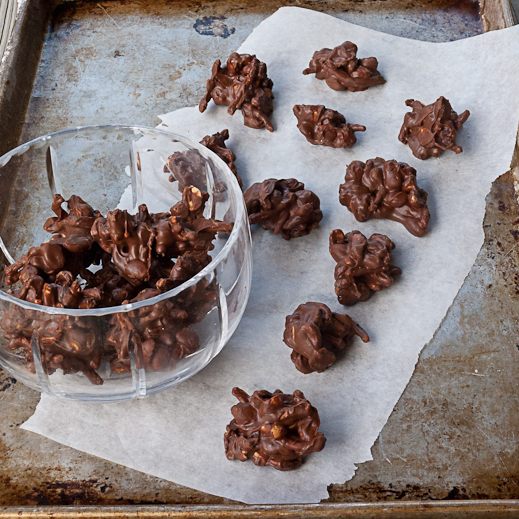 These little candies don't look like much but trust me they are something special.  The butterscotch chips mixed into the semi-sweet chocolate smells amazing and leave people wondering what secret ingredient makes them so addictive!  They are a Christmas tradition in my office and but you will find them a welcome treat any time of year.  This recipe makes a lot of candies so be ready to give them away.  If it doesn't make quite enough for all of your friends and family, then luckily it is easy enough to make more.
Chocolate Haystacks
makes a lot, depends on the size of the haystacks, prep 20 minutes
24 oz semi-sweet chocolate chips
22 oz butterscotch chips (2 11 oz bags)
1 cup dried cranberries (optional)
2 cups roasted, salted peanuts
2 cups chow mein noodles
Cover work space with wax paper.  In a large microwave safe bowl, combine chips. In a separate large bowl combine cranberries, chow mein noddles, and peanuts.  Stir until well mixed.
Microwave the chips in short bursts until chocolate is melted and smooth. Note: the butterscotch chips may not melt smoothly into the chocolate but will disappear once everything is combined together, don't let them freak you out.
Pour melted chocolate over the nut mixture and stir until everything is coated.
Using two spoons drop small scoops of mixture onto wax paper.
Let harden, chill.

Posted in Desserts, Easy, Fast, Uncategorized