December 18th, 2011 by katie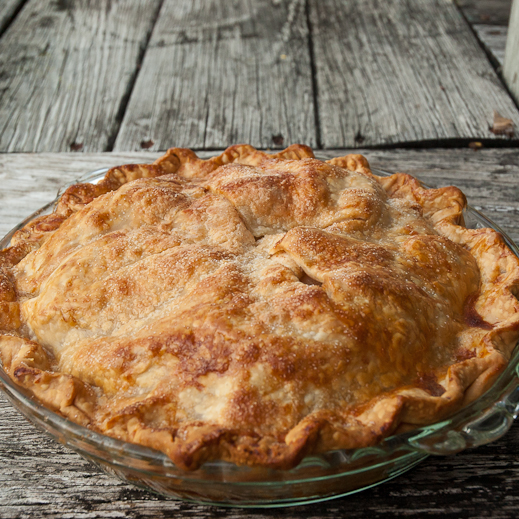 Am I too late to post about apple pie?  Are apples too fallish to celebrate at the end of December?  All who know me know of my unending love affair with pie of all types.  I can't pick a favorite but apple is definitely one of my must-haves.  As soon as the air gets crisp and the leaves start to fall I start to crave all things apple and I don't stop until summer's berries and peaches take over.
I haven't posted an apple pie recipe in the last few years because I wanted to find a favorite, signature pie.  Over the years though I have most enjoyed fruit pies that are exactly what they should be: tart with just enough sugar wrapped in a tender crust and baked until the juices are thick and the fruit is soft.  They don't need anything extra to be delicious (except maybe a scoop of vanilla melting slowly over the top). 
Classic Apple Pie
makes 1 pie, prep 20 min, cook 50 min
dough for two pie crusts
3 lbs granny smith apples, peeled, cored, thinly sliced
2 tbsp lemon juice
3/4 cup sugar, plus extra for sprinkling
3 tbsp flour
1 tsp cinnamon
1/2 tsp nutmeg
1 egg, beaten
Heat oven to 375°F.  Press one pie crust into a dish letting the sides hang over.
In a large bowl, combine apple slices and lemon juice.
Toss with sugar, flour, and spices until slices are evenly coated.
Pour apples into pie crust, mounding slightly in the center.
Drape top crust over pie, bring sides together and tucking into the pie dish.
Flute the edges of the pie with your thumb.
Brush the top crust all over with beaten egg. Sprinkle with sugar.
Cut several slits in top crust for steam to escape.
Bake pie for 20 minutes then turn heat down to 350 and bake and additional 30 minutes or until juices are bubbling.  If crust begins to get too brown, cover with foil.
Allow pie to cool to room temperature before serving.

Posted in Desserts