November 9th, 2011 by katie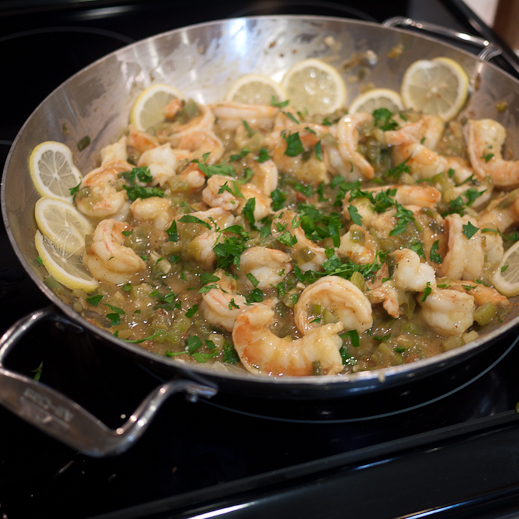 Absolutely NO secret recipes.  Sharing recipes is so much more than just passing on words on paper.  When you share a recipe with someone you are wishing the best for them.  You carefully consider the measurements and ingredients so that your recipient can succeed.  You want them to feel accomplished and satisfied, for their guests or family to be impressed by what they created, and to feel the same happiness or comfort that the recipe brings you and your family.
Despite my love for cookbooks and cooking magazines, I would choose another home cook's worn and weathered recipe over any glossy, sleek cookbook recipe every time.  Like so many of the recipes on this site, I got it from a friend.  This is her mother's recipe for shrimp etouffee and tasting her leftovers in the office got me half-way over the personal hurdle that is Cajun food.  I'm still climbing that particular mountain but, like so many foods I thought I would never like, I'm getting there-slowly and with lots of help!
Ollie's Shrimp Etouffee
serves 4, prep 10 min, cook 20 min, adapted slightly by me from Ollie's recipe
1 1/2 cups green onions, diced
2/3 cup green bell pepper, diced
2/3 cup celery, diced
2 tbsp olive oil
2 cloves garlic, minced
1 tbsp lemon juice
1/2 tbsp Worcestershire sauce
2 tbsp cornstarch
1/2 tbsp Cajun seasoning
1 lb shrimp, cleaned or crawfish meat
3 tbsp brandy or cognac
fresh parsley for garnish
lemon slices for garnish
Saute onion, pepper, and celery in olive oil over medium heat until softened.
Combine lemon juice, Worcestershire sauce, cornstarch, and seasoning with about 1/2 cup water.
Add liquid and shrimp to vegetables, cover and simmer about 15 minutes or until thick.  Add brandy.
Garnish with parsley and lemon slices, serve over rice.
And Ollie says: Bon Appetite! Enjoy!