August 7th, 2011 by katie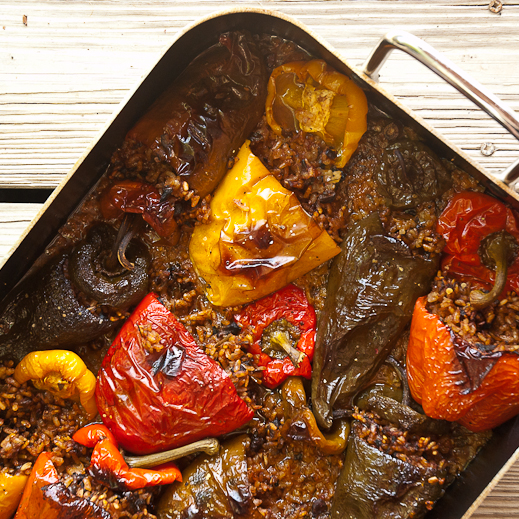 If I was a better blogger I would have a bunch of delicious summery meals stored up to post for you while we wind down the dog days.  I'm not and I don't-so you are getting this wonderful fall-ish meal a bit early.  Yes, I did actually turn on my oven in this weather and it was so worth it.  These peppers, a mixture of sweet and hot, stuffed with creamy risotto rice and herbs are really a perfect dish to straddle the cusp between summer and fall.  They are light, yet hearty, and make the most out of the last of the garden vegetables.
You can make risotto in the oven.  I had heard this over the years but never actually tested it before.  Unfortunately, I screwed it up and wound of with dry, crunchy rice on top.  It wasn't enough for me to turn on the oven when it was 100°F outside, I wanted it to be a blazing 450°F instead of the more moderate 350°F.  You will pay better attention to your oven settings, I just know it. 
Risotto Stuffed Peppers
serves 6, prep 30 min, cook 90 min, adapted from Kalofagas
1/4 cup olive oil
2 onions, diced
1 cup diced mushrooms
4 garlic cloves, minced
1 cup tomato puree (or about 4 tomatoes, grated)
2 cups Arborio rice (often labeled risotto rice)
1 cup fresh parsley, minced
1/2 cup fresh dill, minced
1/4 cup mint, diced
salt and pepper
12 peppers, hot and sweet
4 cups chicken stock, veggie stock, or water, hot
Preheat oven to 350°F.  Heat a large skillet over medium heat.  Add oil and heat.
Add onions, mushrooms, and garlic to hot oil and cook until softened.
Add tomato puree and cook a couple of minutes until thick. Stir in rice, herbs, salt and pepper and remove from heat.
Taste mixture and add salt and cracked black pepper.
Slice off pepper tops and clean out seeds and ribs.  Spoon mixture into peppers to the top.  Arrange peppers on their sides evenly in a baking dish and add hot chicken stock.
Bake about 70-90 minutes or until rice is tender. Check occasionally and add water as needed to keep moist.  Rice on top may be a little crunchy so be sure to check the rice from the inside of one of the peppers.
The herbs in this recipe lend a wonderfully fresh and bright flavor to the rice.  Do not be afraid of the mint!  There is no overtly minty flavor here, just a nice herb-y background.

Posted in Main Dish