July 31st, 2011 by katie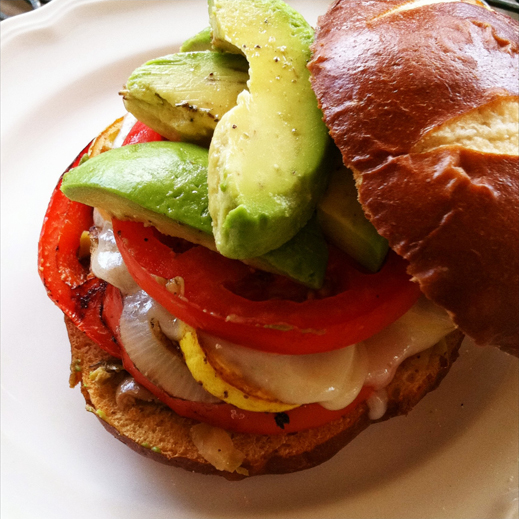 Tired of vegetables yet?  Me neither.  This really should be titled: Vegetable Sandwich, but that sounded a little lame.  I thought Roasted Vegetable Slider sounded good, but I didn't actually roast the vegetables and sliders are supposed to be smaller than this behemoth turned out.  Balsamic Sauteed Veggie Sandwich would have been accurate, but its got olive mix so I think Muffaletta is more descriptive.  Really, this sandwich is another meat-less, low fat yet delicious, fast, and satisfying way to eat healthily.
We have a pretty extensive history of heart disease in our family and my mother recently begun trying to follow a pretty rigid reversal diet.  Since I have her genes and some heart issues of my own, I have been trying to eat a lower fat, less-meat oriented diet as well.  For a quick lunch at my mom's I wanted to put together a heart-healthy sandwich.   A portobello mushroom and some fresh spinach would be perfect here as well, but my mom didn't have either.  She did have some delicious pretzel rolls but any crusty whole-grain bread or soft, toasted bun would be good here as well. 
Veggie Muffaletta
makes 1, prep 10 min, cook 10 min
2 large, thick bell pepper rings, red or yellow
1 slice yellow onion
1/2 small yellow squash, sliced into several thick coins
salt and pepper
balsamic vinegar
1/4 cup mixed salad bar olives, finely chopped
1/2 oz provolone
thick slice tomato
1/2 small avocado, sliced
small whole-grain bun or roll, toasted
Heat a nonstick skillet or a skillet coated lightly in cooking spray over medium heat until hot.  Place peppers, onion, and squash in a single layer and brown well without stirring.
When one side is well browned, sprinkle with salt and pepper and turn to brown the other side.
When vegetables are about finished, turn the heat down and splash the pan with balsamic vinegar, turning veggies to coat.
Spread chopped olive mix on the bottom of toasted roll, top with hot veggies and provolone. Add tomato and avocado. Enjoy!

Posted in Easy, Fast, Health/Nutrition