July 10th, 2011 by katie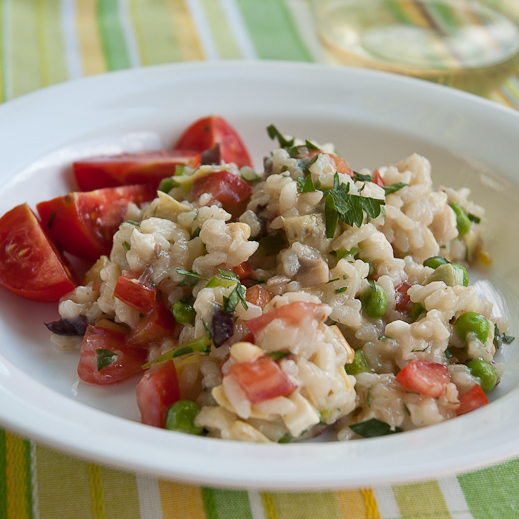 I love summer food.  Abundant fruit and garden fresh vegetables, light meals, and no cook recipes-this is the way I wish we ate all year!  As a its-so-hot-the-thought-of-eating-makes-me-feel-sick meal this easily serves four.  As a hearty, warm winter salad I'd say it serves closer to two.  Whatever time of year you stumble upon this recipe, know that it is wonderful!  Creamy, crunchy, filling yet light, with lots of bright flavors: pungent olives, tangy lemon, bursts of sweet peas, and creamy mozzarella.  This salad is so versatile you could add capers and sun dried tomatoes, shrimp or chopped ham, or fresh basil.  I think the creamy, warm mozzarella goes really nice with risotto but you could use any tender-at-room-temperature rice to make this salad. 
Italian Rice Salad (Insalata di Riso)
prep 20 min, cook 20 min, adapted from
Arcodoro Ristorante Italiano
1 cup superfine rice or risotto cooked and cooled (or 2 cups leftover rice)
2 tbsp pine nuts, toasted
2 mushrooms, diced
2 artichoke hearts, diced (canned)
6 oz light tuna in oil, drained and chunked (optional)
1/3 cup frozen peas
1 Roma tomato, diced
1/4-1/2 cup fresh mozzarella, diced
1/4 bell pepper, diced (green or red)
4 large olives, minced
2 tbsp flat leaf parsley, minced
2 tbsp olive oil
2 tbsp lemon juice ( about 1 large lemon)
1 clove garlic, minced
1 tsp salt (to taste, depending on saltiness of rice)
1/2 tsp fresh ground pepper
Cook rice or risotto if needed.  While rice is cooking, prepare other ingredients.  I used 1 cup of risotto rice prepared with about 1/4 cup white wine and 3 cups of chicken broth.
Heat a small skillet over medium and add pine nuts.  Heat until lightly toasted.  Remove nuts to a large bowl.
To same small skillet add a tsp of oil and sauteed mushrooms until soft (if desired, you can also leave the mushrooms uncooked).  Add mushrooms to bowl.
To the large bowl add diced artichoke hearts, tuna (or diced ham or chicken), peas, diced tomato, mozzarella, bell pepper, olives and parsley.
Once rice is cooked and cool, add rice and stir to combine all ingredients.
In a small bowl or jar, combine oil, lemon juice, garlic, salt and pepper.  Stir or shake until combined.  Pour dressing over rice.  Serve slightly warm, room temp, or chilled.