June 13th, 2011 by katie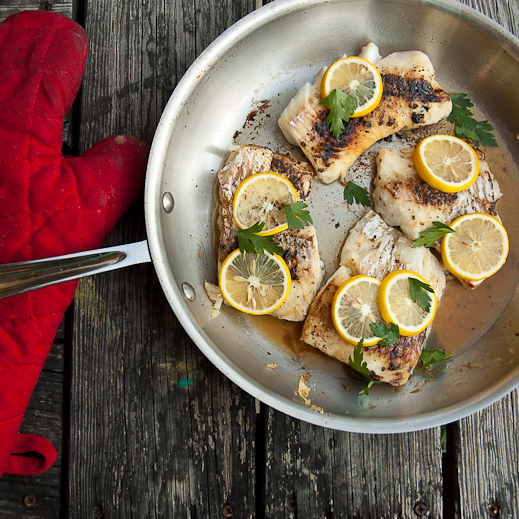 I never really appreciated how difficult it is to be creative after a nine-hour work day.  After spending nine hours running, standing, escorting, greeting, consoling, apologizing, cajoling and generally going full throttle around the hospital it is really, really hard to put much energy into dinner.  This fish comes together so quickly that I was loading the dishwasher within an hour of hanging up my suit and kicking off my heels.  Not only is it a super fast meal but the result is a moist fillet with a wonderful crust that's perfect for any meal-not just a weeknight!
Fish can be a difficult sell but this is the kind of fish dish I really enjoy.  The thick, meaty white fish steaks are indulgent yet healthy.  It is a simple technique: a pinch of sugar sprinkled over each fillet yields a beautiful caramelized crust without any extra sweetness.  I quickly steamed some broccoli in the microwave and warmed up some leftover quinoa or we would have been having fish alone for dinner.  The fish comes together so quickly that you really need to have your side dishes ready or close to before you even start it.  
Skillet Roasted Fish
serves 4, prep 5 minutes, cook 12 minutes, adapted from
Cook's Illustrated
4 (6 oz) thick white fish fillets, such as Cod, Halibut, Mahi Mahi
salt
fresh ground pepper
sugar
1 tbsp oil
lemon slices, wedges for serving
Preheat oven to 425ºF.
Pat fillets dry with paper towels.  Sprinkle salt and pepper all over both sides of the fillets.
Sprinkle sugar over the presentation side of the fillet.
Heat an oven proof skillet over high heat.  Add oil and heat to smoking.
Press fillets sugar side down and sear for 1-2 minutes without moving.
Carefully turn fillets and place skillet in hot oven.  Roast for approximately 10 minutes or until fillets are opaque.
Serve with lemon wedges.