May 15th, 2011 by katie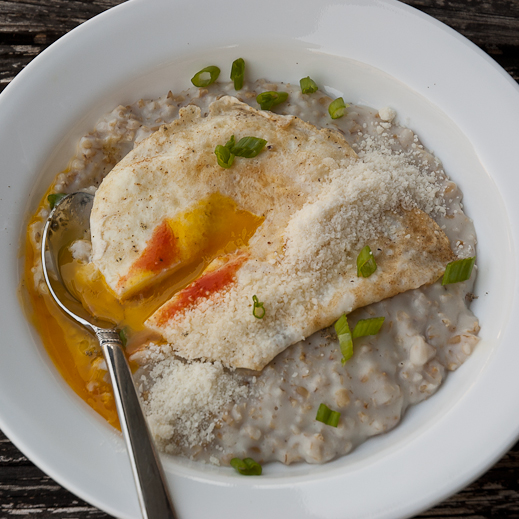 I remember reading an article once where Mark Bittman said that steel-cut oats are an "Aha!" moment.  As in: Aha! This is was oatmeal is supposed to taste like!  I would have to say that my first experience with steel cut oats was exactly that.  Oatmeal has never been my first choice for breakfast.  Or second.  Or fifth.  It has a weird texture, smells funny, and requires so much sugar to be edible that I might as well enjoy some Fruit Loops for less work.  For some time I had heard how much people liked steel cut oats, yet I figured they were the kind of people who enjoy oatmeal in the first place.  Unfortunately eating oatmeal has become almost synonymous with being healthy and it is difficult to find a diet or lifestyle blog/article/book that doesn't encourage it.  So I suffered through a few disgusting, over-sweet bowls of watery oats and decided to take the plunge, make the effort, and whip up a batch of steel cut oats.  And now I am going to encourage you to do so too.
Steel cut oats truly make for a completely different oatmeal experience.  They are nutty and chewier, the porridge thicker, with more texture and richness.  Think of the difference between a slice of basic wheat bread and a slice of complex, multi-grain bread with flecks of seeds and nuts throughout.  They still need to be flavored, but they stand on their own a little stronger-a little fruit and maple syrup is all they need.
But wait, have you tried your oatmeal savory?  With a fried or poached egg?  Truffle salt, Parmesan cheese, and hot sauce make steel cut oats into a savory risotto-like dish you could eat any time of day. 
Basic Steel Cut Oats
makes 3-4 servings, cook time 30 min
4 cups water
1 cup steel-cut oats
pinch of salt
1 cup milk (optional)
Bring 4 cups of water to a boil.  Add oats and salt, stir to combine.
Turn heat down to low and simmer oats for about 30 minutes or until tender.  Stir occasionally towards the end of cooking time to keep the bottom from sticking.
For thick oatmeal serve once oats are pleasantly chewy.
For very creamy oatmeal add milk and simmer an additional 10 minutes.
Sweeten oatmeal with fresh or dried fruit, honey, maple, syrup, or brown sugar.  Add chopped nuts or granola for a little crunch or peanut butter for protein (or indulgence).  I like mashed bananas, walnuts and maple syrup.  Seriously though, the possibilities are endless: fresh cherries, frozen blueberries, dried cranberries, peaches, apples, cinnamon, or even a fried egg and cheese.
To make ahead:  Double the recipe (omit milk or add to taste) and once oats are tender, portion into single serving bowls, cover and refrigerate.  To reheat, warm in the microwave with a splash of milk or water to loosen then add your favorite toppings.